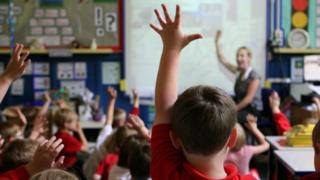 Times tables 'must be memorised by age 11'
3 January 2016
From the section Education & Family
Image copyright
PA
Every pupil in England will be expected to have memorised their times tables before leaving primary school, under new government plans.
These will also see new tests of multiplication skills at the age of 11.
The checks will be piloted to around 3,000 pupils in 80 primary schools this summer, before being rolled out across the country in 2017.
Education Secretary Nicky Morgan said maths was a non-negotiable aspect of a good education.
Pupils will be expected to know all tables up to 12×12, with the skill measured using an "on-screen check" examination that will see children complete multiplication challenges against the clock, which will be scored instantly.
The Department for Education says it is the first use of on-screen technology in National Curriculum tests.
Teacher scrutiny
Mrs Morgan has also said teachers will also be judged by the results of the tests.
She said: "Since 2010, we've seen record numbers …read more
Source:: BBC UK