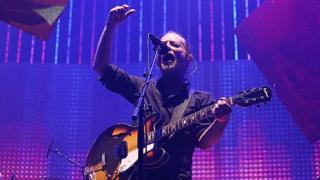 Radiohead reveal rejected theme for James Bond film Spectre
25 December 2015
From the section Entertainment & Arts
Image copyright
Getty Images
Image caption
Singer Thom Yorke said the song had become "something of our own, which we love very much"
Radiohead have released the song they recorded to be the theme for the latest James Bond movie Spectre.
The band have revealed they were asked to write a signature tune for the movie, but it "didn't work out" and the song was not used.
Sam Smith's Writing's On The Wall ended up as the movie's theme song instead.
Radiohead have now made their brooding, orchestral song, titled Spectre, available as a free download
Source:: BBC Entertainment