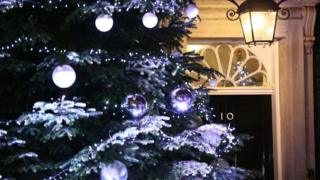 Reflect on Christian values, David Cameron says in Christmas message
24 December 2015
From the section UK Politics
Image copyright
Getty Images
David Cameron has urged people to reflect on Britain's Christian values in his Christmas message.
The PM said the country's "important religious roots" made it "a successful home to people of all faiths and none".
Labour's Jeremy Corbyn used a newspaper article to highlight homelessness and praise emergency workers.
Green Party leader Natalie Bennett called for a "different sort of society" while Lib Dem Tim Farron said the world was "in need of hope".
In pictures: Leaders' Christmas cards
Mr Cameron highlighted the plight of people spending Christmas in refugee camps having fled the civil war in Syria, while Christmas in some parts of the world would go to church in fear of persecution.
"Throughout the United Kingdom, some will spend the festive period ill, homeless or alone," he said.
'Make a difference'
He paid tribute to people working at Christmas "to help the vulnerable" and said the armed forces …read more
Source:: BBC UK