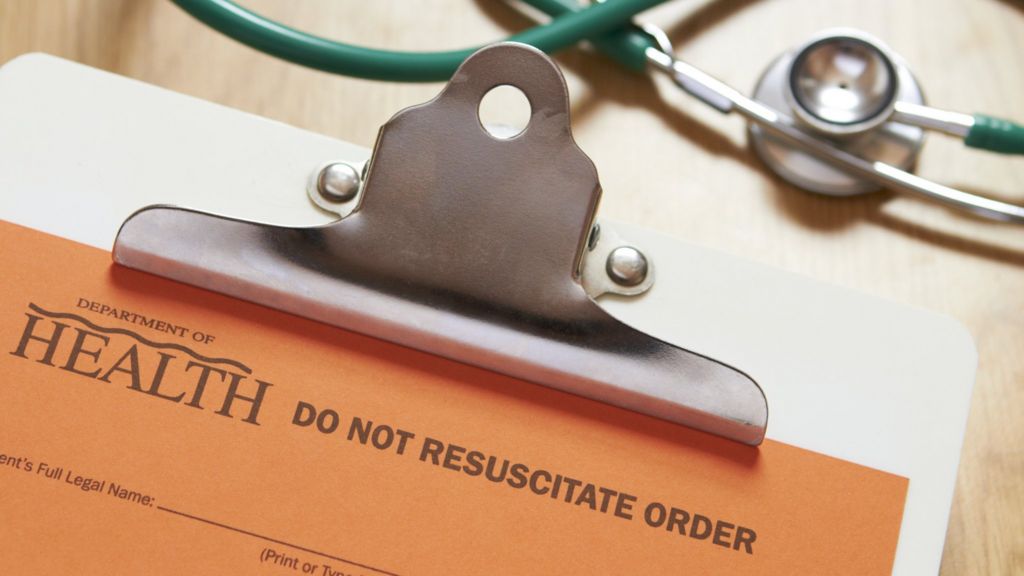 Thousands of people are having "do not resuscitate" orders imposed on them without their families' consent, an audit of dying patients has found.
The Royal College of Physicians' audit of 9,000 patients found one in five families had not been told orders had been imposed on their relative.
Prof Sam Ahmedzai told the Telegraph it is "unforgivable" not to tell families.
NHS England said there had been improvements in end-of-life care, but that more could be done.
The audit estimated that 200,000 patients a year are issued with an order not to attempt CPR if they stop breathing.
In 16% of the 9,000 cases audited, the study found there was no record of a conversation with the patient about the order.
'Late in the day'
Professor Ahmedzai, chairman of the audit, said doctors needed to be more open with dying patients – particularly as half of patients identified as likely to be dying were dead within a day.
"This is being done very late in the day – as doctors we just don't like to face up to it," he added.
An NHS England spokeswoman said: "We welcome the results of this audit, which we commissioned, and which shows there has been some improvement in the care provided.
"But there is clearly more that can be done.
"Although this audit presents a snapshot of end-of-life care within NHS hospitals, there are clear variations in the support and services received across hospitals and areas where improvements must continue to be made."
In June 2014, the Court of Appeal in England ruled doctors have a legal duty to consult and inform patients if they want to place DNR order on their medical notes.
The issue was raised by a landmark judgement that found doctors at Addenbrooke's Hospital, in Cambridge, had acted unlawfully in the care of Janet Tracey.
In December, East Kent …read more
Source:: BBC UK