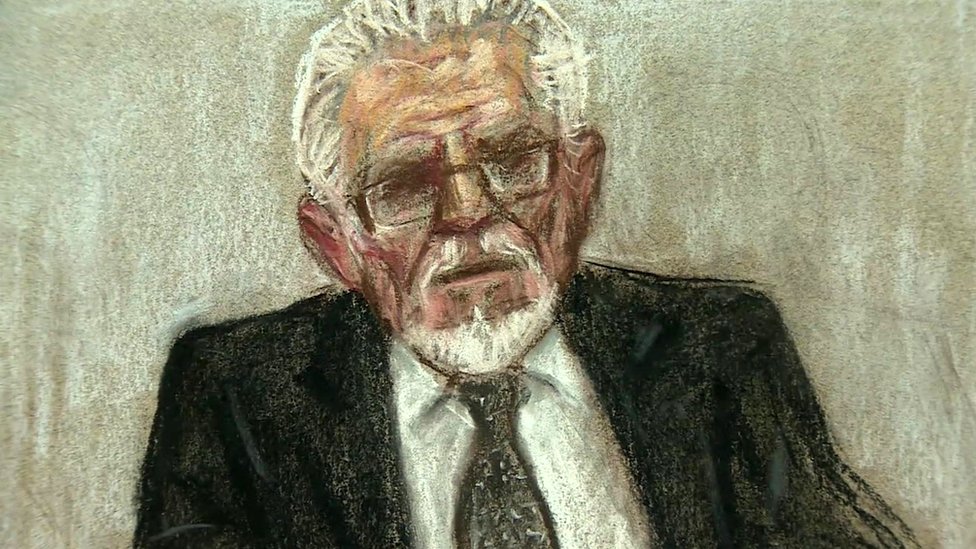 A blind, disabled woman felt "utterly trapped" by Rolf Harris as he groped her, a court has heard.
The woman alleges the former TV star and artist assaulted her at Moorfields Eye Hospital in London in 1977.
The woman told the trial "it was like a hawk pouncing on his prey" as Mr Harris spread his hands over her body.
Mr Harris, appearing at Southwark Crown Court via video link from Stafford Jail, denies seven charges of indecent assault and one of sexual assault.
'Get off'
The woman, who has been disabled since birth, was totally blind and had to walk with a stick when the indecent assault allegedly took place.
She was 27 at the time and a jury was told how the incident left her feeling "absolutely invaded".
In a pre-recorded interview from July 2014, the court heard her recall hearing a door to the hospital room she was in opening and recognising the voice of the TV star, whom she had been expecting to meet.
She said she remembered feeling hot air from Mr Harris's nostrils and his beard tickling the back of her neck after he approached "from absolutely nowhere", and could tell he was getting excited as his breathing got heavier, the court heard.
"I have never met anyone who could spread their hands across my body so quickly," she said.
"They covered all my back really really fast and he got his hands going up both sides of my body and he was saying, 'Well don't you like this then?' and I said 'No I don't like it. Nobody has ever touched me like this, get off'."
He then allegedly replied: "Well you can't see me."
An 'octopus'
The complainant, who has two full-time carers, went on: "What annoyed me was that I just could not escape, and being blind I couldn't always tell where he was.
"I was completely and utterly trapped."
The woman said: "One (complainant) later described him as an octopus. I thought 'that's exactly what it felt like with his arms and fingers spread as far as he could spread them'."
The woman said the way he had allegedly taken "advantage" of her was "as degrading as it gets".
She went on: "No-one has ever behaved like that to me in my life and I want to say even my husband, at his most passionate times, never covered my body in a way that he has done."
The alleged victim said she repeatedly asked …read more
Source:: BBC Entertainment