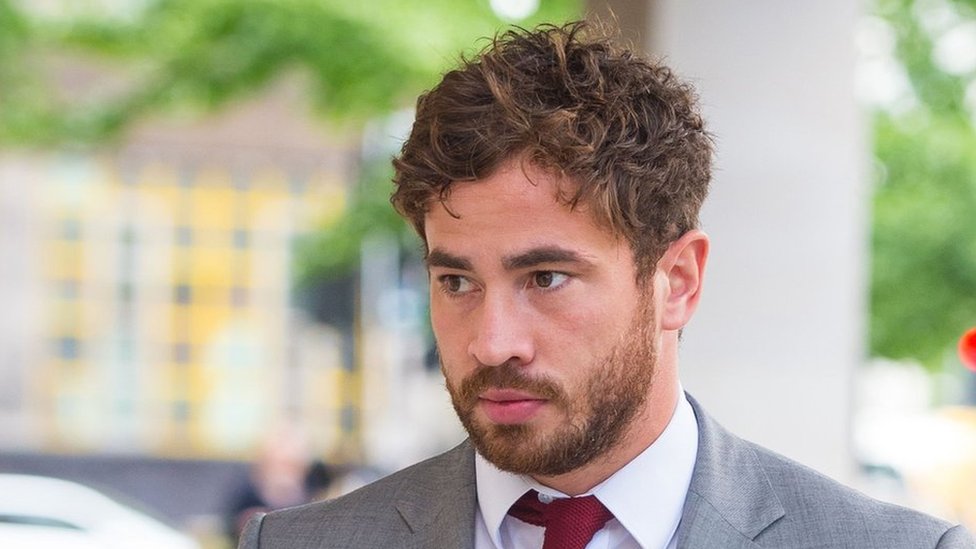 Rugby star Danny Cipriani was "shocked" when he found out he was over the drink-drive limit following a collision, a court heard.
The England player had drunk two espresso martinis and a glass of champagne less than an hour earlier, Westminster Magistrates' Court heard.
He was said to have had "glazed eyes" and smelt of alcohol when he was arrested after his Mercedes collided with a taxi in west London last June.
The fly-half denies drink-driving.
The Wasps player, then playing for Sale Sharks, was breathalysed following the collision shortly after 5am on June 1.
He found to have 67 micrograms of alcohol per 100ml of breath. The legal limit to drive in England and Wales is 35 micrograms of alcohol.
Giving evidence, the 28-year-old admitted he had been out drinking and eating sushi with other players at Eight Over Eight in Chelsea after an England XV match against Barbarians.
Mr Cipriani, from Raynes Park in south-west London, scored two tries and 10 conversions in the 73-12 Twickenham win.
Jurors were told he had two espresso martinis and a vodka cranberry at dinner between 20:30 BST and midnight, but he said he felt "fine" and was not drunk.
Asked if the meal had lined his stomach, he replied: "Well, we had a lot of rice, some dim sum. I eat a fair bit. We probably had double orders on what we were having."
Afterwards, he went to a nightclub for about 30 minutes before going to a friend's house.
"I had three hours sleep, I woke up and I felt alright," he said.
The player left at 04:00 to have breakfast, which consisted of a fry up, a "small champagne flute" and two more espresso martinis. He then got a cab to his car.
The court heard Mr Cipriani looked "crestfallen" when he was arrested after the collision at 05:15 …read more
Source:: BBC world news feed