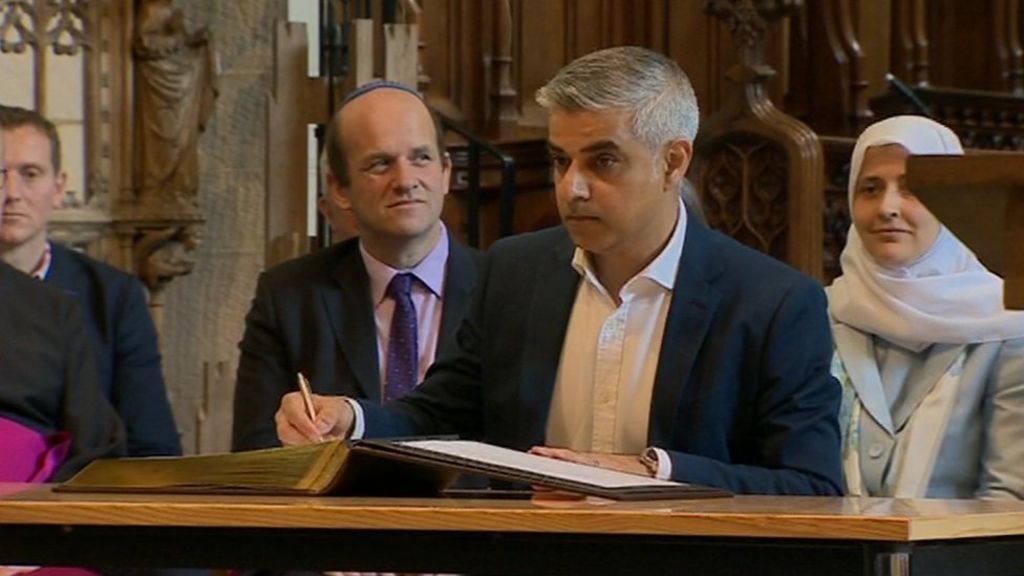 Labour's Sadiq Khan has vowed to do all in his power to make London "better", as he was sworn in as the new mayor.
Referring to his council estate roots, Mr Khan, the city's first Muslim mayor, said he wanted all Londoners to have the same opportunities he has had.
It comes as Defence Secretary Michael Fallon defended Conservative Zac Goldsmith's campaign, describing it as the "rough and tumble" of politics.
The much-criticised campaign questioned Mr Khan's alleged links to extremists.
Mr Khan beat Conservative Zac Goldsmith, by 1,310,143 votes to 994,614 – a margin of victory of 13.6%, giving him a larger personal mandate than either of his predecessors, Boris Johnson and Ken Livingstone.
The former Labour minister's victory ends eight years of Conservative control of City Hall.
It has also given a boost to the Labour party after its poor performance in Scotland's election which saw it slump to third place behind the Conservatives.
At the swearing in ceremony in Southwark Cathedral, Mr Khan said that as a child he "never dreamt" he would one day become the mayor of the capital.
"I'm only here today because of the opportunities and helping hand that our city gave to me and my family.
"My burning ambition for our city, that will guide my mayoralty, is to ensure that all Londoners get the opportunities that my city gave to me," he said.
"I promise you I will always do everything in my power to make our city better. I will be a mayor for all Londoners," he added.
He also pledged to lead "the most transparent, engaged and accessible administration London has ever seen".
'Rough and tumble'
In his victory speech after the election result was announced, Mr Khan said the campaign had not been without controversy, but he said was "proud" voters had "chosen hope over fear".
The campaign run by the Conservatives …read more
Source:: BBC UK