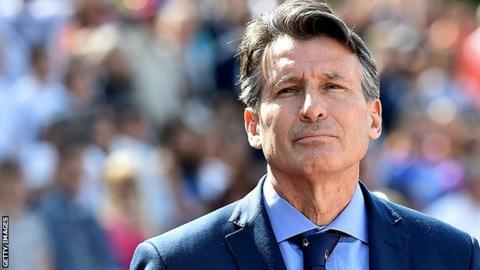 BBC Panorama has learnt that Lord Coe won the presidency of the International Association of Athletics Federations with the help of the man at the centre of the sport's doping scandal.
Text messages seen by the BBC suggest ex-IAAF consultant Papa Massata Diack, now wanted by Interpol, secured votes for Lord Coe's August election victory.
The programme also suggests Coe may have misled the UK parliament.
The double British Olympic 1500m champion, 59, denies any wrongdoing.
The text messages suggest Diack, son of the disgraced former IAAF president Lamine Diack, helped secure African delegate votes for Coe.
The investigation also uncovers evidence Coe may have misled a parliamentary select committee over when he first became aware of the allegations of doping and corruption in athletics.
You can watch Panorama: Seb Coe and the Corruption Scandal on BBC One at 19:00 BST on Thursday. The programme will also be available on the BBC iPlayer.
Coe became IAAF president in the midst of a growing corruption scandal involving blackmail and state-sponsored doping in Russia.
Within weeks of his election, his predecessor, the Senegalese Diack Sr, was arrested and a warrant issued for the arrest of his son, a marketing consultant for the IAAF.
The corruption scandal had originally come to light in a German television documentary in December 2014.
The documentary reported that Russian and IAAF officials, including Diack Jr, had conspired to cover up doping by the Russian marathon runner Lilya Shobukhova, as well as attempt to blackmail her.
Source:: BBC UK