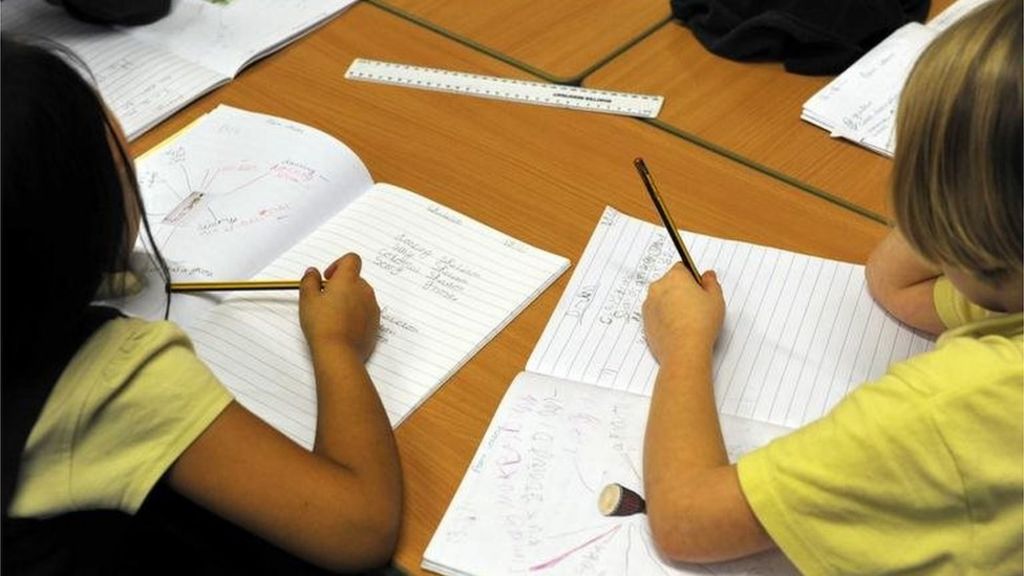 A grammar, punctuation and spelling test due to be taken by 600,000 children aged 10 and 11 in England has been accidentally published online.
Sats answers appeared for a short time by mistake on a password-protected exam board site, the government confirmed.
It is the second time in three weeks a primary school exam has been accidentally published online.
Labour said faith in the controversial tests – which have been the subject of parent protests – had been undermined.
The exam, which was due to be taken by Year Six pupils on Tuesday, was published by test supplier Pearson on a site accessible to registered markers via a password.
A marker had been guilty of a breach of contract in sharing the information, and an investigation was under way, the Department for Education said. The test was taken down on Monday evening.
The government was forced to scrap a test for half a million children aged six and seven after it emerged that it had been posted with practice materials three months early.
'Lax attitude'
Labour MP Lucy Powell, shadow education secretary, called for an emergency review of the assessment programme.
She told the Guardian newspaper the leaked tests "call into question the ability of ministers in the department to properly manage our education system", as well as undermining parent and teacher confidence.
"Their lax attitude to delivering these assessments on time and in a proper fashion means that the work of thousands of children, parents and teachers could be for nothing," she said.
The new tests have been drawn up to assess children's grasp of the recently introduced primary school national curriculum, which is widely considered to be harder than the previous one.
The more challenging tests have been controversial – with parents claiming they make children stressed and anxious.
Almost 50,000 parents …read more
Source:: BBC UK