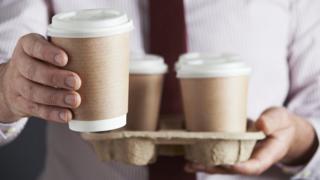 Image copyright
Thinkstock
Image caption
Action on Sugar analysed 131 hot drinks from coffee shops and fast food chains
There are "shocking" amounts of sugar in some hot drinks sold in High Street cafes, a campaign group has warned.
Action on Sugar analysed 131 hot drinks and found a third contained at least as much sugar as a can of Pepsi or Coca-Cola, which contains nine teaspoons.
The charity said in some of the worst cases the drinks contained 20 or more teaspoons of sugar.
Coffee shop chains Starbucks, Costa and Caffe Nero said they were committed to reducing sugar content in their drinks.
The drinks assessed included flavoured coffees such as mochas and lattes, hot fruit drinks and hot chocolates from coffee shops and fast food chains.
The charity found that 98% of the drinks tested would receive a red nutritional value label for high sugar content.
The recommended maximum intake of added sugar per day for those aged 11 and over is about 30g or seven teaspoons, the NHS says.
Worst offenders for each type of flavoured hot drinkCafe
Drink
Category
Sugar per serving (g)
Teaspoons of sugar per serving**
Starbucks
Hot mulled fruit – Grape with chai, orange, and cinnamon – Venti
Hot mulled fruit
99.0
25
Costa
Chai latte – Massimo – Eat In
Chai latte
79.7*
20
Starbucks
White chocolate mocha with whipped cream – Venti
White mocha
73.8*
18
Starbucks
Signature hot chocolate – Venti
Hot chocolate
60.0*
15
KFC
Mocha
Mocha
58.8*
15
Caffe Nero
Caramelatte – Drink in
Caramel latte
50.6*
13
* Contains some sugars (lactose) naturally occurring in the milk
Source:: BBC UK