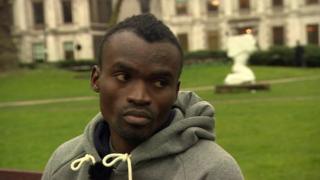 Commonwealth Games athlete Jimmy Thoronka refused right to stay in UK
1 October 2015
From the section UK
A Sierra Leonean sprinter who went missing after competing at Glasgow's Commonwealth Games and later applied to stay in the UK has had his bid refused.
Jimmy Thoronka, 20, did not return home after the event in the summer of 2014, amid Ebola fears in his home country.
He was arrested after being found sleeping rough in London, but applied to stay in the UK and was offered a scholarship by a London university.
But the Home Office has confirmed his appeal has been rejected.
A spokesman said: "All applications for a visa or leave to remain are considered on their individual merits and in line with the immigration rules.
"Mr Thoronka's claim did not meet the required thresholds within the immigration rules."
'Devastated'
Almost 4,000 people in Sierra Leone died following the outbreak of Ebola in the country in May 2014.
Mr Thoronka's biological parents and adopted family were killed by the virus.
Source:: BBC UK