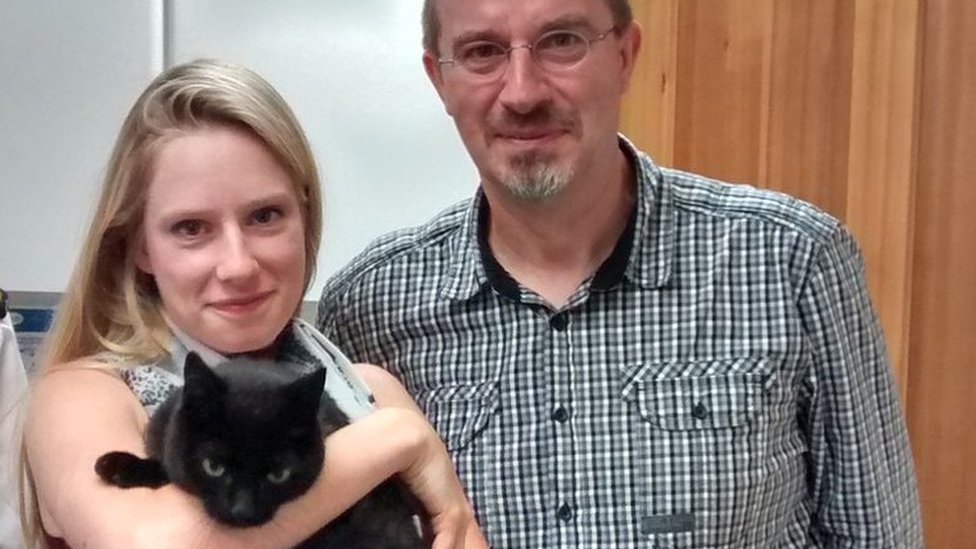 A Belgian cat which disappeared while "holidaying" in the UK has been returned to its owner after 10 months.
Gizmo was brought to High Wycombe temporarily from his home in Silly, Belgium, by owner Milene Letertre.
He went missing in August and despite numerous searches, the microchipped cat was not found and Miss Letertre had to return to Belgium without him.
Last week Gizmo was finally found in High Wycombe and his owner came over and took him home.
When Miss Letertre took a job in the Buckinghamshire town, she left the cat, aged eight, with her father in the Belgian town of Silly.
More stories from Buckinghamshire
However, when he had to travel for work for three months, Gizmo was brought over to High Wycombe.
Domestic pets can be moved between EU countries, providing certain rules are met.
He escaped through an open window in August and could not be found. Two months later Miss Letertre had to leave the UK without him.
"It broke my heart that I would never know what happened to him," she said.
However, 10 months later she received a call from the RSPCA.
Gizmo had been seen not far from where he originally went missing but was starving and his fur was falling out.
A member of the public called the RSPCA which scanned the cat's European microchip and traced him to his owner, about 250 miles (400km) away.
"We have no idea what adventures Gizmo has had in the last 10 months but he will no doubt be very contented to be back at his home in Belgium," RSPCA chief inspector Rob Hartley said.
Let's block ads! (Why?)
Source:: BBC world news feed