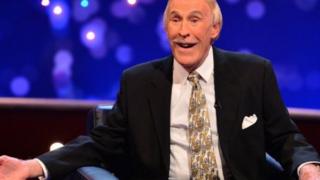 Sir Bruce Forsyth: 'I'd cut BBC Three and Four'
28 September 2015
From the section Entertainment & Arts
Image caption
Sir Bruce Forsyth told the audience at the Radio Times Festival that the BBC's 'worldwide appeal' should be valued
Sir Bruce Forsyth says he would cut BBC Three and Four if he were in charge of the BBC at a time of financial strain.
The broadcaster said the BBC should "be with us forever" but that it was in danger from "having to spread too much money out over four channels".
His comments follow the BBC's recent absorption of cost of the TV licence for over-75s and the BBC World Service.
A government green paper is also demanding a full review of BBC finances and services ahead of charter renewal.
Speaking at the Radio Times Festival at Hampton Court on Sunday, Sir Bruce told the audience we should value the corporation's "worldwide appeal".
Source:: BBC Entertainment