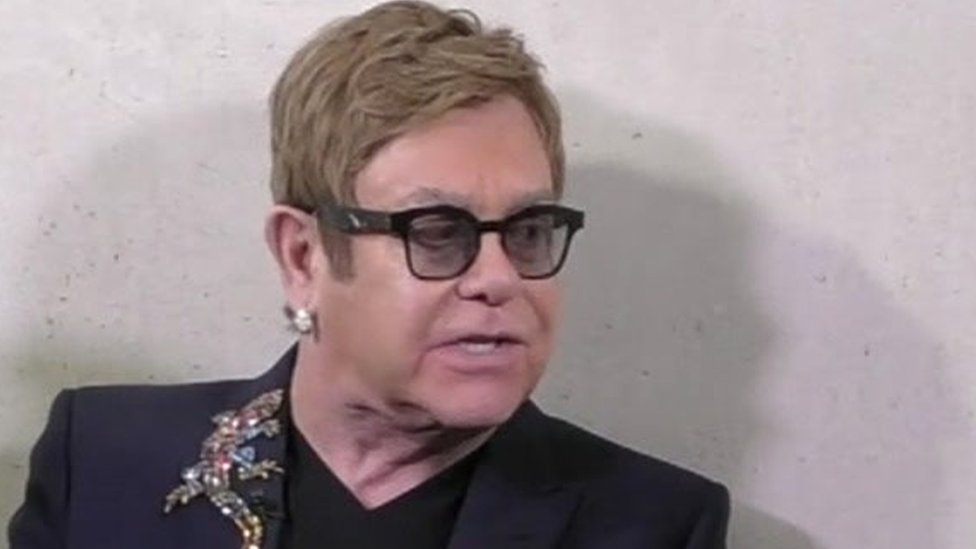 The end of HIV "is in sight" in Western countries, but increased testing is vital, Sir Elton John has said.
The music star said early testing could save "millions of pounds each year" for the NHS, in an interview with the BBC's Victoria Derbyshire programme.
His charity, the Elton John Aids Foundation, has offered to finance HIV testing in Lambeth, south London, which has the UK's highest HIV rate.
The PM says the UK is driving advances in HIV prevention and treatment.
About 40% of people diagnosed with HIV in 2014 were diagnosed late, according to Public Health England (PHE) statistics, which Prime Minister Theresa May described as having "a significant impact on their long-term prognosis".
Sir Elton said early testing was essential to ensure people were "diagnosed, they're put on treatment, they won't spread the disease – and we'll know where we stand with the population".
He referenced a project his foundation had implemented at King's College Hospital in London, which allows individuals to be tested for HIV at the same time as receiving a blood test, as an example of how more people can be checked for the disease.
'Stigma obstacle'
"Most people are willing to have that, and otherwise they wouldn't have a HIV test," he said. "It is something we want the government to get more involved in."
He added: "We can solve this, we can stop this disease from spreading."
On Thursday, NICE announced new guidance aimed at increasing testing in people with undiagnosed HIV in England.
The updated guidance recommends all patients in areas with "high" and "extremely high" rates of HIV should be offered a test on admission to hospital, if they have not previously been diagnosed with HIV and are undergoing a blood test for another reason.
In extremely high-rate areas, hospitals should offer the tests even if they are not having blood tests as part of their care, NICE recommends.
But councillor Izzi Seccombe, of the Local Government Association, said achieving what NICE was asking was going to be difficult.
"The strain placed on councils by the cuts by central government to public health budgets would make commissioning HIV testing in all surgeries and hospitals in high and extremely high-risk areas an unaffordable burden.
"Despite these limited resources, testing those in high-risk areas must always be a priority. Councils are commissioning HIV testing in a variety of settings."
The Department of Health maintained councils had been provided with sufficient funding.
David Furnish, Sir Elton's husband …read more
Source:: BBC Entertainment