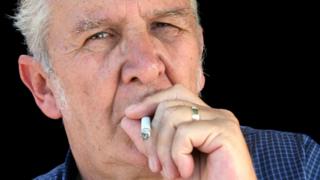 Smoker's cough 'could be sign of serious disease'
29 December 2015
From the section Health
Image copyright
Thinkstock
Smokers are being urged not to dismiss the early signs of a debilitating disease as simply a smoker's cough.
In a new campaign, Public Health England says too many smokers remain unaware of the risks of chronic obstructive pulmonary disease (COPD).
COPD, which narrows the airways, can leave people struggling to do simple tasks such as climbing stairs.
Figures show more than 1m people in England are living with it, with nine in 10 cases caused by smoking.
COPD is actually the umbrella term for a number of serious lung conditions including chronic bronchitis and emphysema.
No cure
People with the disease have difficulties breathing, primarily due to the narrowing of their airways and destruction of lung tissue.
Typical symptoms include breathlessness when active, a persistent cough and frequent chest infections.
But in the Public Health England (PHE) advertising campaign, experts say smokers often dismiss the early signs as a "smoker's cough" but, by continuing to …read more
Source:: BBC UK