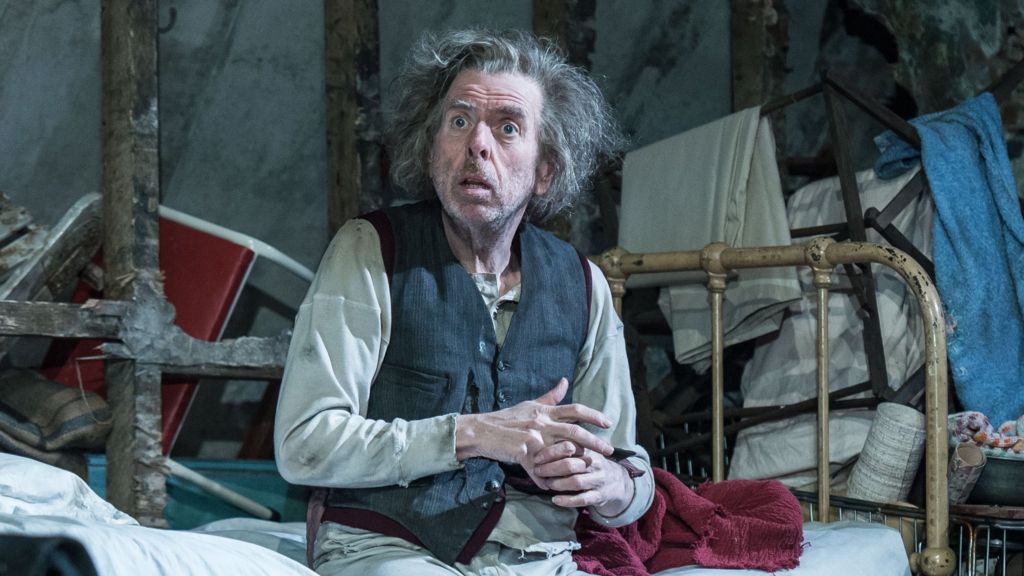 Actor Timothy Spall has made a "gamely" return to the London stage for the first time in two decades to star in Harold Pinter's The Caretaker.
The Mr Turner star opened in the 60s classic at the Old Vic on Wednesday in the part of the tramp Davies.
Spall last took to the capital's stage in 1992 playing Bottom in A Midsummer Night's Dream at the National Theatre.
In Pinter's play, Spall's ragged Davies is helped by a young man, only to have the brother threaten his new peace.
Critics were largely pleased to see the actor back on stage, whose career has for the last few years been on the big screen, notably playing Peter Pettigrew in Harry Potter.
They also had kind words for Spall's co-stars, Daniel Mays playing the kindly brother Aston and George MacKay as his scheming brother Mick.
And, though some felt the production was lacking in all but its three-hour length, most, like Dominic Cavendish of The Telegraph, had some words of encouragement for the star for his performance in the notoriously gruelling play.
Spall has "gamely come, at the age of 59, to give the Old Vic an instant touch of box-office magic", says Cavendish.
Below you can read more of his review and highlights from some other critics' assessments.
Dominic Cavendish – The Telegraph
How does Spall fare? Well enough, I'd say, but while he looks the part with wild grey hair, heavy black overcoat and old pinstripe trousers, he's hobbled rather than helped by aspects of his interpretation…
Matthew Warchus's revival protracts the overall experience to three hours… at least a small part of this excess is attributable to the meal Spall makes of his lines. Almost every utterance is accompanied by a starter of eye-rolling and muttering…
Read full review
Patrick Marmion – The Daily Mail
It's a part …read more
Source:: BBC Entertainment