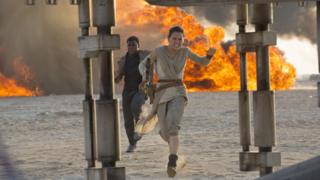 Star Wars film breaks opening day box office record
18 December 2015
From the section Entertainment & Arts
Image copyright
Disney/Lucasfilm
Image caption
British duo John Boyega and Daisy Ridley take lead roles in Star Wars: The Force Awakens
Cinemagoers in the UK and Ireland spent almost £10m to watch the new Star Wars film on its first day of release – a new opening day box office record.
The £9.64m tally beat the previous best of £9.48m, set by Harry Potter and the Deathly Hallows: Part 2 in 2011.
Midnight screenings of Star Wars: The Force Awakens on Thursday morning accounted for £2.4m of ticket sales.
Some chains have increased their prices for the …read more
Source:: BBC Entertainment