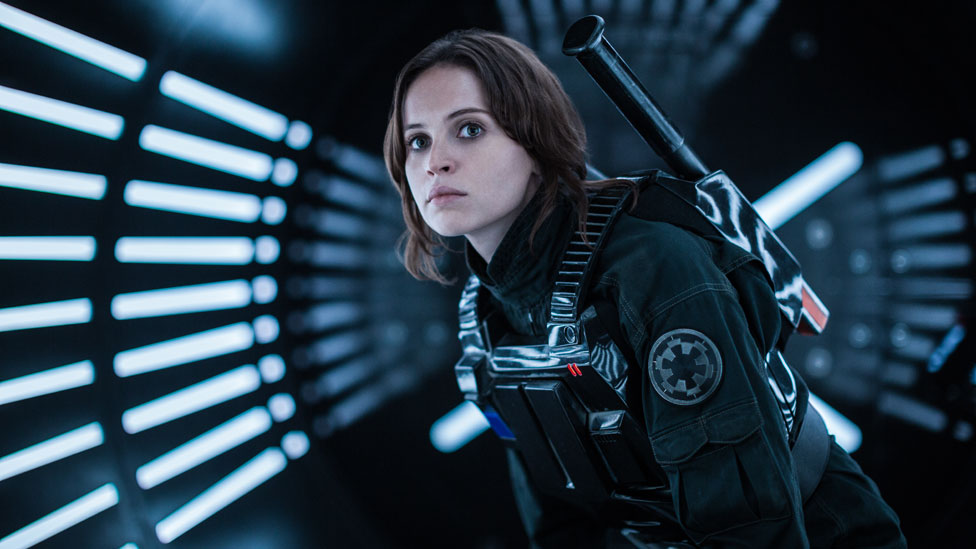 A new trailer for Star Wars spin-off Rogue One has been released, offering fans a fleeting glimpse of Darth Vader.
The trailer, seen previously only by attendees at last month's Star Wars Celebration event in London, concludes with a shot of Vader and the sound of his trademark heavy breathing.
Felicity Jones stars in Gareth Edwards' film as the leader of a Rebel mission to steal the plans for the Death Star.
Rogue One: A Star Wars Story will be released in the UK on 16 December.
It is set before the time of the first Star Wars film A New Hope, released in 1977, and does not form part of the main series.
The two-minute promo begins with new character Saw Gerrera (Forest Whitaker) telling Jyn Erso (Jones) that "the world is coming undone".
"Imperial flags reign across the galaxy," his voice continues over a shot of an Empire vessel floating above a desert landscape.
The trailer goes on to show Jyn and Cassian Andor (Diego Luna) being told about the mission for which they have been selected.
Subsequent scenes feature a new robot character voiced by Alan Tudyk, a blind warrior played by Hong Kong action star Donnie Yen, and an Imperial Walker being struck by a laser bolt.
Actress Alyssa Milano, screenwriter Max Landis and DJ Edith Bowman are among those to welcome the new promo on Twitter.
US publication Entertainment Weekly, meanwhile, has assembled a frame-by-frame analysis.
Source:: BBC Entertainment