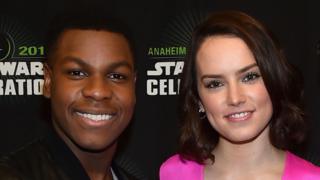 Star Wars: 'No pressure' for UK duo John Boyega and Daisy Ridley
3 December 2015
From the section Entertainment & Arts
Image copyright
Getty Images
Image caption
Boyega and Ridley are both 23 and both hail from London
The British stars of the new Star Wars film have told the BBC they feel "no pressure" over how it will be received.
"I feel no pressure at all," said John Boyega, who will be seen in the JJ Abrams-directed Star Wars: The Force Awakens as a stormtrooper called Finn.
"I don't think I feel responsibility," said Daisy Ridley, whose character Rey is the film's female lead. "I think JJ probably feels it more.
"I just mainly …read more
Source:: BBC Entertainment