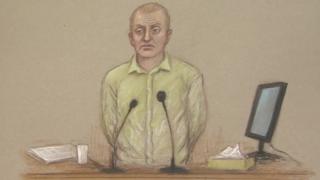 Hatton Garden raid: Stashed jewellery 'was not from heist'
4 January 2016
From the section London
Image copyright
Julia Quenzler
Image caption
Taxi driver Jon Harbinson denies being a part of the £14m Hatton Garden heist
Jewellery found stashed in the house of a man accused of being part of the Hatton Garden heist was not from the raid, a court heard.
Cherie Wright, partner of Jon Harbinson, told Woolwich Crown Court that items found by police hidden behind cupboards in their house were more than 15 years old.
Mr Harbinson, 42, had also been "acting normally" at the time of the raid.
He denies conspiracy to commit burglary at Hatton Garden.
After the heist, police …read more
Source:: BBC UK