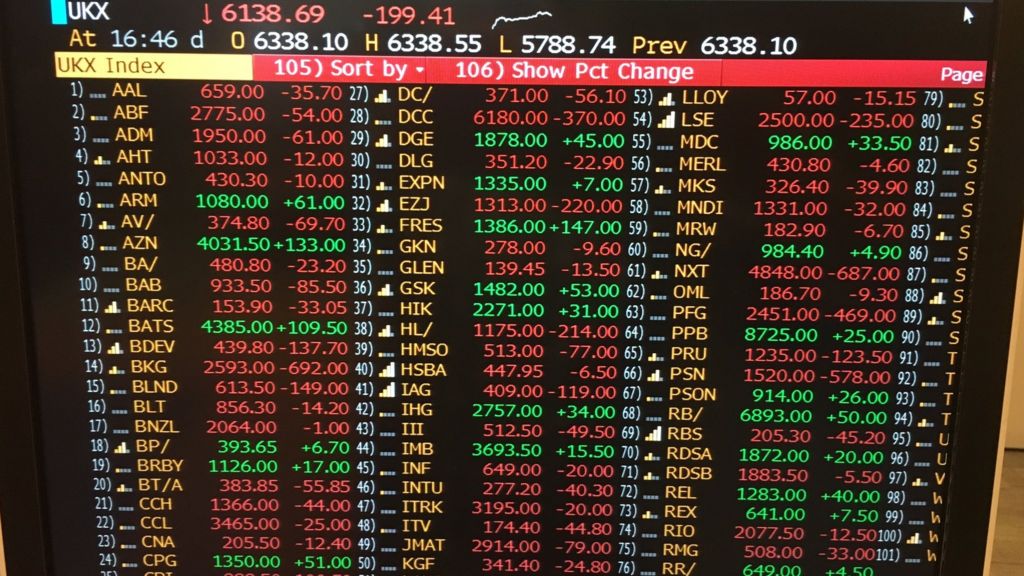 The FTSE 100 has closed almost 200 points lower after a wild day of trading in the wake of the UK's Brexit vote.
The London index fell 7% in early trading to just over 5,800 points but ended the day 3.15% lower at 6,138.
European markets were hit harder, with the Dax in Frankfurt suffering its worst day since 2008.
Sterling also plunged, falling more than 8% against the dollar and 6% against the euro.
Wall Street fell, with the S&P 500 down more than 3% in afternoon trading in New York and the Dow Jones industrial average down 2.9%.
The FTSE 250, which is mostly made up of companies that trade in the UK, took a bigger hit, shedding 7.2% to close at 16,088 points.
Financial services group Aldermore was the biggest faller on the 250, down 32%, with house builder Crest Nicholson closing 26% lower.
House builders were also the three biggest fallers on the 100, with Taylor Wimpey suffering a 29% slide.
Liberum analyst Charlie Campbell said: "The outcome is bad for housebuilders' shares as the combination of slowing GDP, rising longer-term rates and political uncertainty is like Kryptonite for that group of shares."
However, the FTSE 100 index still ended the week higher than it started at 6,021 points.
Gold miner Randgold jumped 14%, while consumer-facing companies including GlaxoSmithKline, Unilever and Diageo all rose more than 3%.
The London market regained some poise after the Bank of England pledged to intervene to help shore up the markets.
Governor Mark Carney said the Bank was prepared to provide £250bn to support the markets, but added that "some market and economic volatility can be expected as this process unfolds".
'Bargain hunting'
The European Central Bank also said it was closely monitoring financial markets and was in close contact with other central banks.
Laith Khalaf, senior analyst at Hargreaves …read more
Source:: BBC UK