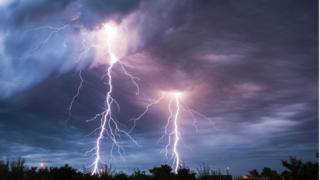 Storm Steve could sweep across UK
20 October 2015
From the section UK
Image copyright
Thinkstock
Barney, Desmond, Steve, Tegan and Wendy are among the names chosen by members of the public to identify future storms affecting the UK and Ireland.
The Met Office announced the results after receiving thousands of responses via email, Facebook and Twitter.
It is hoped that naming storms will help raise awareness of severe weather and ensure people protect themselves.
A storm will be named when it is deemed potentially able to cause "substantial" impact on the UK or Ireland.
The full list of names chosen for future selection are: Abigail, Barney, Clodagh, Desmond, Eva, Frank, Gertrude, Henry, Imogen, Jake, Katie, Lawrence, Mary, Nigel, Orla, Phil, Rhonda, Steve, Tegan, Vernon and Wendy.
Source:: BBC UK