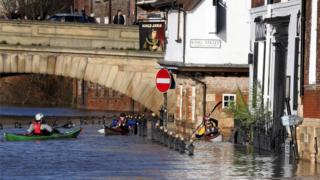 December was wettest on record for UK – Met Office says
5 January 2016
From the section UK
Image copyright
Getty Images
December was the wettest month in the UK in more than a century, provisional Met Office figures show.
It was also the wettest calendar month overall since records began in 1910 – and 2015 was the sixth wettest year, data showed.
Scotland and Wales both had record-breaking rainfall in December.
The UK mean temperature for the year of 9.2C was warm but not exceptional, said the Met Office, and not quite hot enough to beat the 2014 record of 9.9C.
Warm, wet, but not the norm yet
Mean December temperatures, which reached a record 7.9C, felt more like April or May days.
England saw virtually no frost and, in the UK overall, there were fewer than three days of frost – normally, December would see about 11 frosty days.
Source:: BBC UK