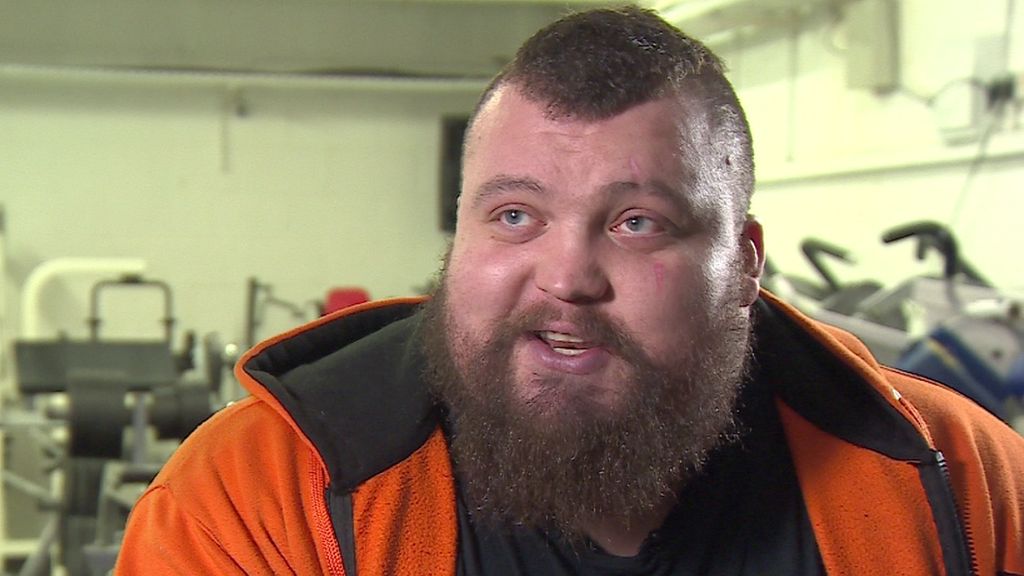 The World's Strongest Man competition is just a few months away and Briton Eddie Hall is bidding to fulfil a life-long ambition of winning the title. But the 28-year-old admits he could well "die trying" to achieve that dream.
Hall, a father-of-two from Newcastle-Under-Lyme, Staffordshire, has dedicated the past five years of his life to extreme training, polishing off a staggering 10,000 calories a day.
He already weighs in at 28 stone (178kg) – and aims to get to 30 stone (190kg) to compete against the strongest men in the world.
His chest size is 66 inches and he wears 5XL clothes.
But he is fully aware pushing his body to the limit could very well take its toll.
"Yes I'm doing damage to my body now," Hall told BBC Inside Out. "The human body isn't designed to be this size.
"I mean, for God's sake, I'm 6ft 3in and 28 stone. Ideally, someone my height needs to be 15 or 16 stone.
"But the same as any sport – you've got to push the boundaries to be the best.
"My life revolves around World's Strongest Man. I want to be the World's Strongest Man. That's what I said I was going to do five years ago and that's what I'm going to do."
But, how far is too far in his bid to rewrite the record books again?
To see the stress and strain he puts his body under, Hall underwent five hours of scientific testing at Staffordshire University.
Scientists tested his blood pressure, muscle fibres, aerobic power, his body fat composition, exertion, heart rate and recovery.
He also had an Electrocardiogram (ECG) to check if his body really could cope with the gruelling extreme weight training.
In the middle of the tests, they had to break for lunch. Hall has to eat every two hours and he had …read more
Source:: BBC world news feed