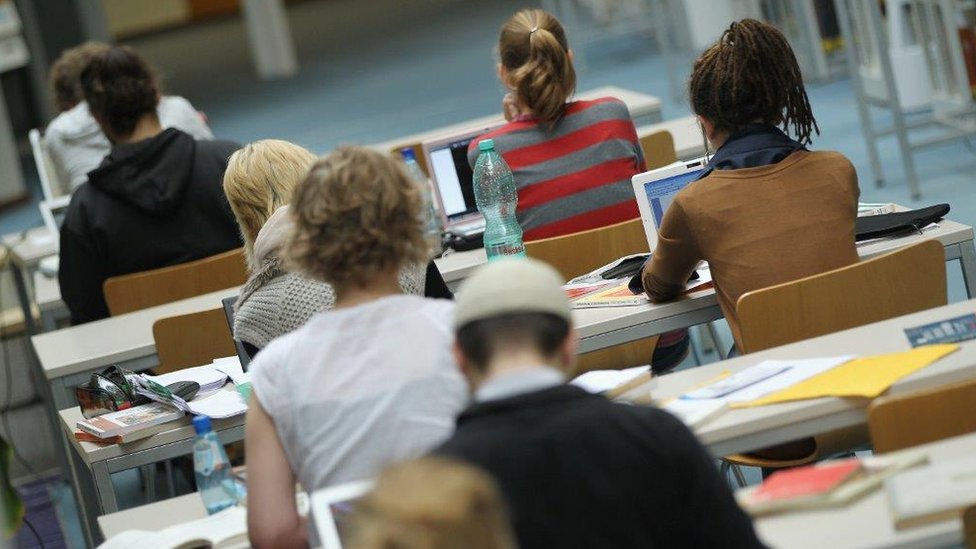 Politicians should stop using a "carrot of higher graduate earnings" to justify raising student fees or freezing repayment thresholds, say campaigners.
Those who do "should be charged with gross mis-selling", says Angus Hanton, co-founder of the Intergenerational Foundation (IF) lobby group.
Having to pay back student debts will wipe out any graduate premium for most professions, claims the IF in a report.
The government says higher education boosts employability and earnings.
The report focuses on tuition fee rises in England – currently capped at £9,000 a year – pointing out how successive governments have used the graduate "pay premium" to justify them.
The premium is the amount of extra money it is estimated a degree can help graduates to earn over the course of a lifetime.
The report says that in 2002, ministers put it at £400,000, but recent estimates have been more modest at about £100,000.
Wide variations
There are wide variations between the sexes and between subjects and institutions, it adds.
It argues that, while for somebody who gets an Oxbridge first, the premium figure of £400,000 "may still hold true", it is much lower for non-Oxbridge graduates.
"The increasing number of graduates… is further undermining the value of a degree," it adds, with some previously low-to-median paid posts now requiring degrees.
"Our research proves that the current £100,000 graduate earnings premium so often touted equates to an 'annual bonus' of just £2,222 over 45 years of work and is wiped out once National Insurance and income tax are taken into account.
"Furthermore, the premium is simply not enough to cover the interest accruing on the average loan.
"The current system is fuelling a self-perpetuating debt-generating machine which short-changes young people," argues Mr Hanton.
The authors say a graduate who borrowed the maximum for tuition fees and maintenance would, with interest, owe £53,000 …read more
Source:: BBC world news feed