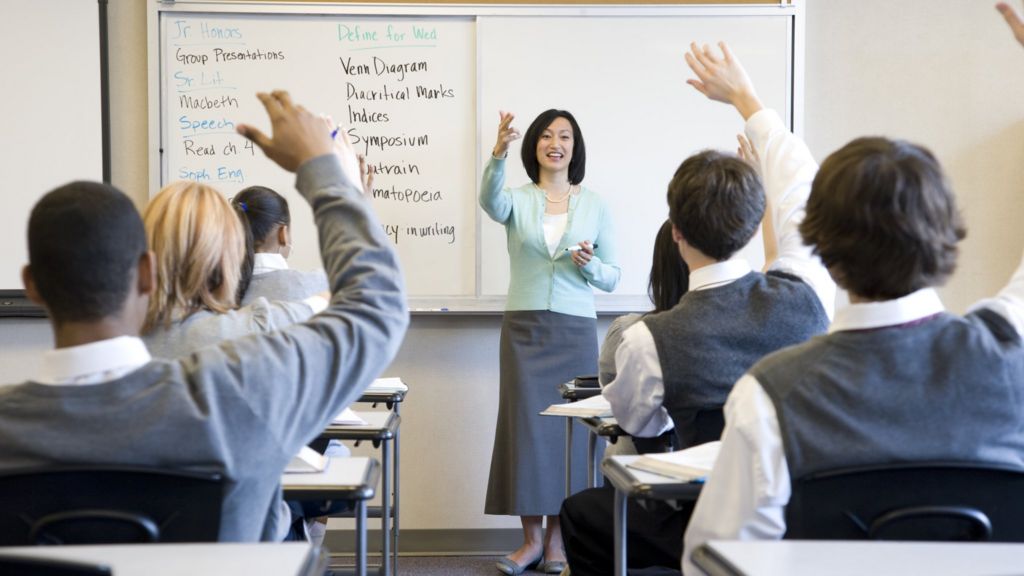 Primary and secondary schools in England struggling to recruit teachers spent £821m on supply staff last year, it has emerged.
Analysis by BBC News shows the equivalent of £168 was spent on each child in order to hire in extra staff to cover vacancies and absences.
Teachers unions say the amount of money spent reflects a "serious teacher recruitment and retention crisis".
The government said the number of quality teachers was at a record high.
The latest data for schools in England shows spending on supply teachers accounted for 6% of the total amount spent on teaching staff wages. The overall figure spent on supply teachers fell by £18m on the previous year.
Schools in London collectively spent the most on supply teachers. Primary and secondary schools in the capital spent £212m on extra staff, the equivalent of £260 per child.
The Robert Clack School, in Dagenham, east London, spent the most on supply teachers in England. According to the government's data the school spent £953,807 on extra staff – the equivalent of £526 per child.
Dr Neil Geach, the school's chair of governors, said the figures included expenditure on counselling staff, extra-curricular sport staff and professional development spending.
"The figures as reported do not reflect reality… We do not use unqualified staff or cover supervisors to cover teaching groups – our children's education is too important."
Aside from London, Yorkshire and Humberside had the highest spending rate for supply staff of £161 per pupil, followed by schools in the West Midlands, which spent £160.
Schools in the East of England spent the lowest amount per pupil – £137 for every child.
Graham School in Scarborough, North Yorkshire spent £556,776 on supply teachers during the course of 2014-15, which was the highest amount in Yorkshire and Humberside.
Two years ago, the school was in special measures owing to its …read more
Source:: BBC world news feed