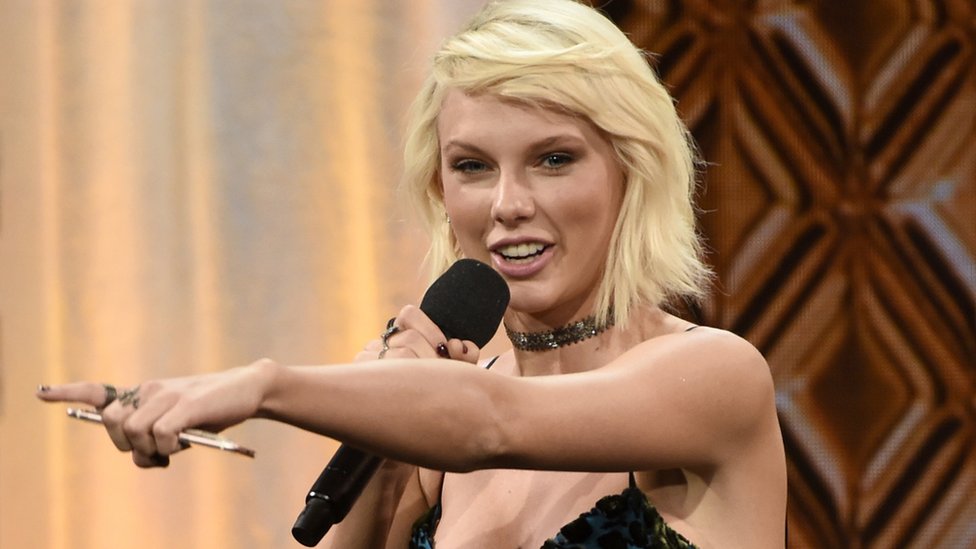 Taylor Swift has topped Forbes' annual list of the 100 highest-paid celebrities.
With a $170m (£130m) fortune, the singer-songwriter is ahead of Adele, who's at number nine with $80.5m (£61.9m), Madonna is in 12th spot with $76.5m (£58.8m) and Rihanna at number 13 with $75m (£57.7m).
Taylor's 1989 World Tour earned more than $200m (£154m) last year.
The star's ex-boyfriend Calvin Harris is in 21st spot with $63m (£48.4m).
Other top 10 earners include boy band One Direction at number two with $110m (£84.6m), actor-comedian Kevin Hart at number six with $87.5m (£67.3m) and US radio DJ Howard Stern at number seven with $85m (£65.4m).
Kim Kardashian is featured on the magazine's cover.
She's number 42 on the list with $51m (£39.2m).
Forbes says 40% of her pay this year came from her mobile game Kim Kardashian: Hollywood.
The game's maker, Glu Mobile, is scheduled to release an app starring Taylor Swift next year.
Katy Perry is at number 63 with $41m (£31.5m).
"The world's 100 highest-paid celebrities pulled in $5.1bn (£3.9bn) pre-tax over the past 12 months, more than the GDP of Belize, Gambia and Bhutan combined," Forbes said.
Magazine editor Zack O'Malley Greenberg said live entertainment continues to be a major cash draw.
"From soccer games in Spain to concerts in China, fans are willing to shell out to see big names – and this is driving the celebrity economy to ever greater heights," he said in a statement.
On the Hollywood front, Jennifer Lawrence was the industry's highest-paid actress for the second consecutive year, earning $46m (£35.1m), a slight drop from the $52m (£39.7m) The Hunger Games star banked the year before.
Actor Dwayne Johnson wrestled the highest-paid actor spot from Iron Man's Robert Downey Jr, earning $64.5m (£49.3m), largely thanks to the billion-dollar Fast and Furious franchise and the surprising success of 2015's San Andreas movie.
Many athletes also made the list, including Portuguese footballer Cristiano Ronaldo ($88m – £67.2m), tennis player Roger Federer ($68m – £51.9m), and German F1 driver Sebastian Vettel ($41m – £31.3m).
Top 10 highest-paid celebrities
1. Taylor Swift – $170m (£130m)
2. One Direction – $110m (£84.6m)
3. James Patterson (Author) – $95m (£72.3m)
4. Dr Phil McGraw (US TV personality) and Cristiano Ronaldo – $88m (£67m)
6. Kevin Hart – $87.5m (£66.6m)
7. Howard Stern – $85m (£65.4m)
8. Lionel Messi – $81.5m (£62.1m)
9. Adele – $80.5m (£61.9m)
10. Rush Limbaugh (US entertainer) – $79m (£60.1m)
Find us on Instagram at BBCNewsbeat and follow …read more
Source:: BBC Entertainment