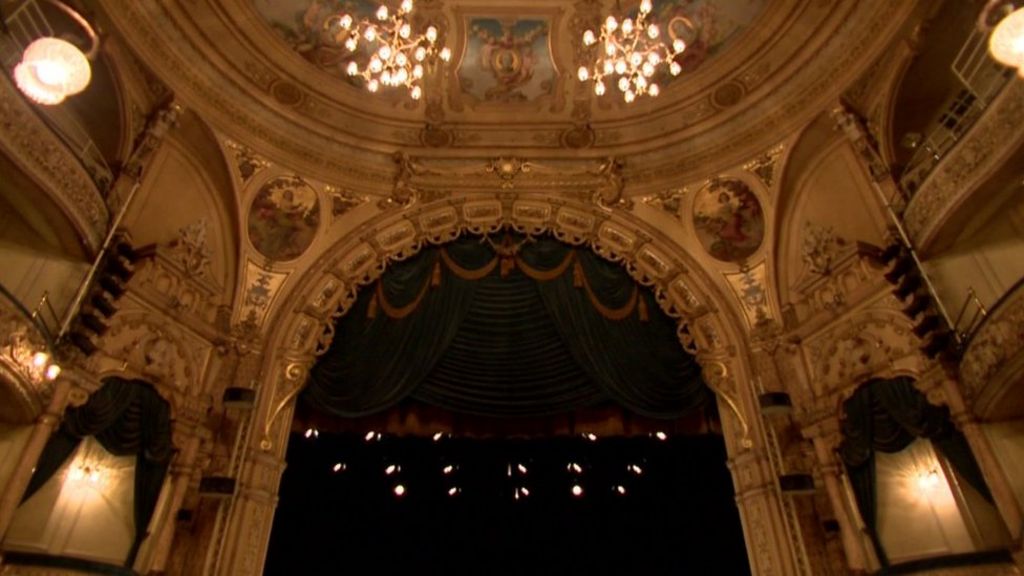 A teenager has been seriously injured after jumping from an upper circle balcony during a performance of Grease at Blackpool's Grand Theatre.
The theatre was evacuated after the 18-year-old fell into the stalls at about 21:30 BST on Thursday, Lancashire police said.
He was treated by paramedics at the scene and was conscious when he was taken to Royal Preston Hospital.
His injuries are not thought to be life threatening.
'Shocking scenes'
As the 18-year-old landed, he caught the shoulder of a woman on the end of one of the rows in the stalls, police said. She was not injured.
Eyewitness Robert Simmill said it was "probably the worst thing" he had ever seen. He tweeted: "Terrible scenes at Blackpool Grand theatre tonight!"
"Shocking scenes. I was there with my 12 yr old. Something I can't believe she had to witness," Joanne Brookes tweeted.
The Grand Theatre released a statement on Twitter: "We can confirm an incident @Grand_Theatre this evening. Police/Ambulance service attended, performance was abandoned."
It also said that a decision would be made on Friday on future Grease performances at the theatre.
Let's block ads! (Why?)
Source:: BBC world news feed