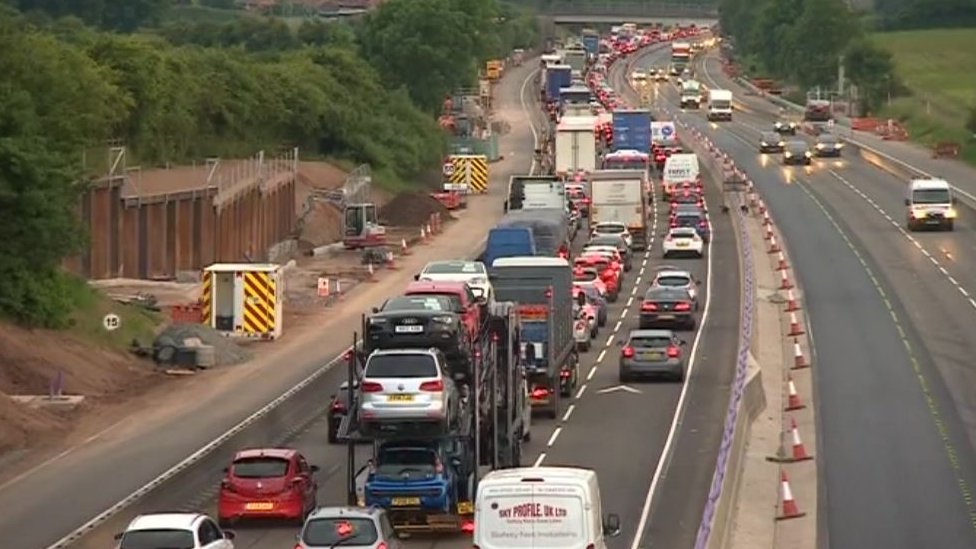 Thousands of motorists have been stranded on the M5 motorway after hydraulic fluid spilled along three miles of the motorway, forcing it to close for more than five hours.
Drivers tweeted their frustration at moving less than two miles in four hours between Droitwich and Worcester.
Highways England said resurfacing may need to take place on the southbound carriageway between junctions 5 and 6.
The road was closed at 16:00 BST and it is not yet known when it will reopen.
Some of those queuing are on their way to the Glastonbury Festival, which has faced major problems on all routes into the site.
Highways England spokeswoman Sophie Powers said queues stretched back six miles.
Drivers approaching the gridlocked section of the motorway have been diverted off at junction 5, directed towards the A38 and A4538 to rejoin the motorway at junction 6.
Arwel Richards tweeted: "Four hours in and moved two miles on M5. Why they don't open up the hard shoulder is beyond me.
"If I knew where I was I'd write to the MP."
Another motorist said she had been stuck in her car with a five-month-old baby since 16:00.
Let's block ads! (Why?)
Source:: BBC world news feed