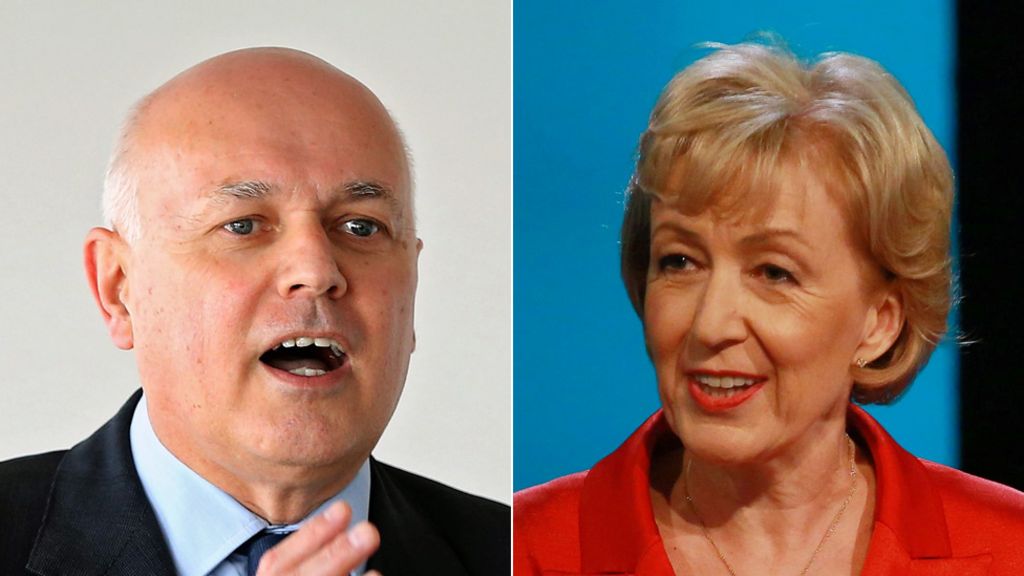 Former Conservative leader Iain Duncan Smith has said he backs Andrea Leadsom to be the UK's next prime minister.
They campaigned together for the UK to leave the EU, and Mr Duncan Smith said Mrs Leadsom was the "right person to lead" in the forthcoming negotiations.
Meanwhile, Mrs Leadsom said the new PM must be a Leave supporter – which would rule out frontrunner Theresa May.
The other candidates to replace David Cameron are Stephen Crabb, Michael Gove and Liam Fox.
As of 18:00 BST on Friday, Mrs May had secured the backing of 96 Tory MPs, while Mr Crabb had 22, Mrs Leadsom had 21, Mr Gove had 18 and Mr Fox had 10.
More than 160 Conservative MPs had yet to declare whom they would support.
Whoever is elected Conservative leader will succeed Mr Cameron as prime minister and be responsible for negotiating the UK's exit from the EU, following the 23 June referendum result.
The candidates will take part in a series of ballots of the party's 330 MPs, starting on Tuesday.
The two most popular will then go on to a vote of the wider party membership, with the result due on 9 September.
'Great prime minister'
Mr Duncan Smith said he had spoken to all the candidates and had "huge confidence" in Mrs Leadsom.
He praised her strength, experience and "ability to achieve objectives even against considerable odds".
"I believe that Andrea's strong family background, business experience, compassion, commitment to social justice and dedication will make her a great prime minister for the UK," he added.
In an interview with the Daily Telegraph on Saturday, Mrs Leadsom said the new PM should be someone who had supported Brexit.
Though she did not directly mention Mrs May – who supported Remain – she said it would be "very difficult" for someone who had backed staying in the …read more
Source:: BBC UK