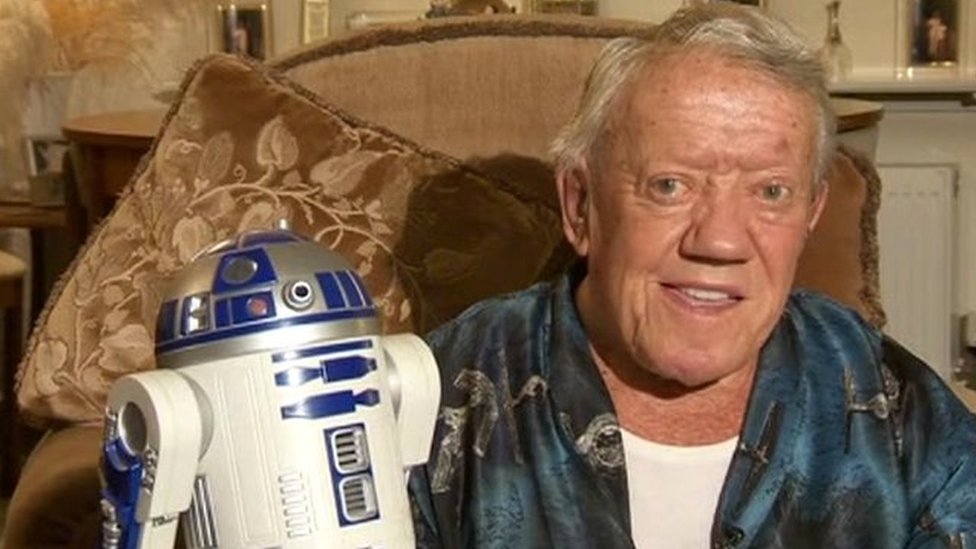 People across Lancashire have paid tribute to "cheeky" Kenny Baker, the Star Wars R2-D2 actor who lived in Preston and has died aged 81.
The 3ft 8in (1.12m) actor made his name as the droid in the first Star Wars film in 1977.
His nephew and carer Drew Myerscough, 48, said he died at home on Saturday after suffering respiratory problems for about nine years.
Fans remembered his "wicked sense of humour and charm".
Baker regularly appeared at conventions and fan days across Lancashire and was "always happy to come out for the fans", according to Neil Livesey, organiser of Preston Comic Con, a comic book, film and pop culture convention.
He said the actor had a "lust for life", adding: "Lets just say he liked a glass of white wine and had a wicked sense of humour."
Nicky Danino, a lecturer at the University of Central Lancashire (Uclan) said: "Everyone knew who he was. We'll miss seeing his big smile around Preston.
"I remember once I was getting my hair cut and he drove up in his Rolls and walked in. He was so friendly, said hello to everyone and was greeted like a long lost friend. A real gent."
"Kenny was in his 80s but still happy to sign for fans. He had a cheeky sense of humour and if fans said they wanted an autograph in blue he said he would write it in black.
"He said 'I'll write what I want to write', but he was always happy to stop and meet people, whether in a restaurant or a supermarket.
'Real Preston celebrity'
"There was one fan who didn't manage to get an autograph at the convention so I called him up and he said bring him round to the house. So that's what we did, we met him at his house."
Lancashire …read more
Source:: BBC world news feed