By Nicholas Rotherham
Newsbeat reporter
Buzz, Woody and the gang are returning to our screens for Toy Story 4.
Nearly two decades after Pixar created the world's first computer animated feature with Toy Story, they've confirmed plans to return with a fourth instalment.
John Lasseter, who directed Toy Story and Toy Story 2, is back onboard to direct the film.
Disney Pixar says the film is due for release in June 2017.
"We love these characters so much; they are like family to us," Lasseter said.
"We don't want to do anything with them unless it lives up to or surpasses what's gone before."
The new story was dreamt up by the original Toy Story writing team of Lasseter, Andrew Stanton, Pete Docter and Lee Unkrich.
"When Andrew, Pete, Lee and I came up with this new idea, I just could not stop thinking about it. It was so exciting to me, I knew we had to make this movie—and I wanted to direct it myself," Lasseter said.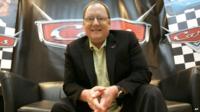 The announcement was made by Walt Disney CEO Bob Iger during a meeting for investors yesterday.
"John created Toy Story and directed the first two films, and it's great to have him back directing one of our most valuable properties," Iger said.
Details of storyline are being kept firmly under wraps, but Lasseter has reportedly told The LA Times that Toy Story 4 will be a love story and will pick up where Toy Story 3 left off.
It's also been revealed Rashida Jones and Will McCormack will join the writing team.