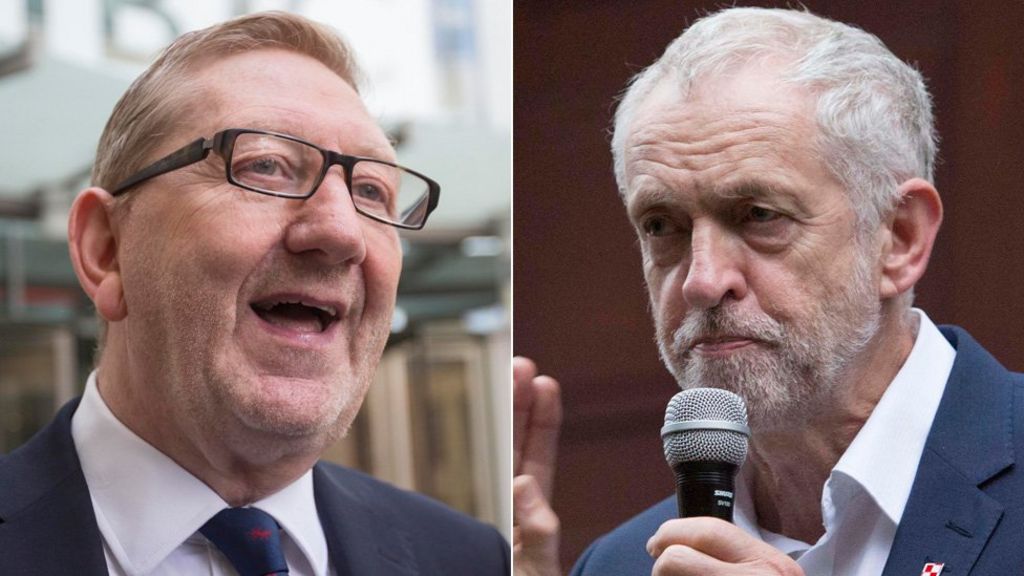 The "coup" against Labour leader Jeremy Corbyn "has failed" and trade union leaders can now broker peace within the party, Unite leader Len McCluskey says.
He called on MPs to "desist" from any formal leadership challenge to Mr Corbyn – who he said had been the victim of a "political lynching".
Labour MPs opposing him had been "seduced by sinister forces", he added.
Writing in the Sunday Mirror, Mr Corbyn said he was "ready to reach out" to Labour MPs who oppose his leadership.
Live updates of the Labour and Tory leadership
Appearing on the Andrew Marr Show, the general secretary of Unite said trade unions were "professional negotiators" and could "resolve this issue" inside the Labour Party.
"The trade unions can broker a peace. With Jeremy as our leader and the genuine concerns of the PLP, we can bring people together," he said.
It follows dozens of resignations from the Labour front-bench team and a motion of no confidence in Mr Corbyn that was passed by 172 to 40 Labour MPs on Thursday.
Former party leaders – including Lord Kinnock – have also called on him to resign,
'Man of steel'
However, Mr McCuskley said it was "unhelpful" for ex-Labour leaders who had lost previous elections to be "dragged out to be part of an unedifying coup".
He said Mr Corbyn had been "undermined, humiliated and attacked", but said he was "made of stronger stuff".
"He is a man of steel and he's made it clear he will not step down," the Unite boss added.
Mr McCuskley said legal opinion was "crystal clear" that Mr Corbyn would definitely appear on the ballot paper of any future leadership election.
However, Lord Kinnock – who faced a leadership challenge from Tony Benn in 1988 – told the same programme the Labour leader would first need to secure nominations from MPs.
He would …read more
Source:: BBC UK