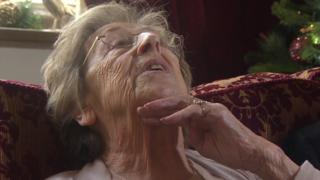 Trapped couple speak of flood terror
31 December 2015
From the section Devon
Image caption
Joanne Pool said the water was up to her neck
An elderly couple "would have gone" when their car was trapped by floodwater without the quick thinking of a passing delivery driver.
Water rose to the necks of Joanne Pool and partner Ralph Land as they were stuck in their car in Sparkwell, Devon.
Delivery driver Gary Brewer smashed the car window with a rock and dragged the couple to safety.
Mrs Pool told the BBC she and Mr Land would not have survived had Mr Brewer not been there.
Source:: BBC world news feed