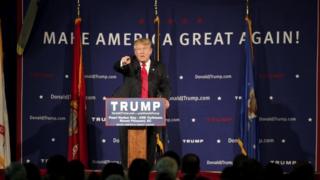 Donald Trump: Police 'afraid for their lives' in 'radicalised' London
8 December 2015
From the section London
Image copyright
Reuters
Comments by US presidential hopeful Donald Trump that parts of London are "so radicalised the police are afraid for their lives" have been attacked as outrageous and appalling.
The Republican nomination contender made the remarks in a TV interview, following his call for Muslims to be banned from entering the US.
He also said Paris is "no longer the same city it was".
He was attacked by the Conservative and Labour candidates for London mayor.
Conservative Zac Goldsmith said Mr Trump's position was "repellent", and said he was "an appalling creature… one of the most malignant figures in politics".
Labour's Sadiq Khan said the billionaire "can't just be dismissed as a buffoon – his comments are outrageous, divisive and dangerous".
Poll ratings
Asked on MSNBC if Muslims were needed in the effort to help confront terrorism, Mr Trump said: "If you look at Paris – and I hate to do this, …read more
Source:: BBC UK