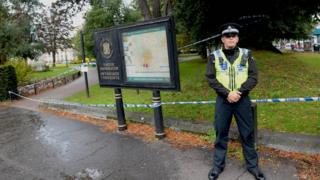 Two arrested following three sex assaults in Cardiff
24 September 2015
From the section South East Wales
Image copyright
Wales news service
A second man has been arrested after three sexual assaults in five days, all within a mile of each other.
Police in Cardiff are investigating the attacks, in an area with a high student population, and said it was too early to know if they were connected.
Officers received the latest report of an attack on a woman, 19, at Gorsedd Gardens at 04:30 BST on Thursday.
It follows an incident at Cardiff Civic Centre early on Sunday, and a second in Cathays Terrace early on Tuesday.
A 40-year-old man from Riverside has been taken to Cardiff Bay police station. A 22-year-old, also from Cardiff, who was arrested earlier on Thursday, remains in custody.
However, officers stressed that it was too early to say whether the attacks are linked.
Source:: BBC UK