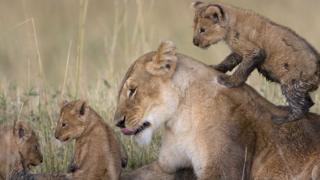 Maasai lions: Two charged with Kenya poisoning
8 December 2015
From the section Africa
Image caption
The lions were featured on BBC wildlife programme Big Cat Diary in 2007
Two Maasai herdsmen have been charged after allegedly poisoning a famous pride of lions in Narok, south-west Kenya, a wildlife official said.
Simindei Naururi and Kulangash Toposat reportedly doused a cow carcass with poison at the Maasai Mara Game reserve.
Eight lions are being treated for poisoning. Two others were killed but at least one was not from the pride.
The lions are thought to have killed three of the herdsmen's cows when they entered the reserve.
Africa Live: BBC news updates
The Kenyan Wildlife Service (KWS) warned that other animals might have been affected.
The lions, from the famous Marsh pride, were featured on BBC wildlife programme Big Cat Diary.
Source:: BBC Entertainment