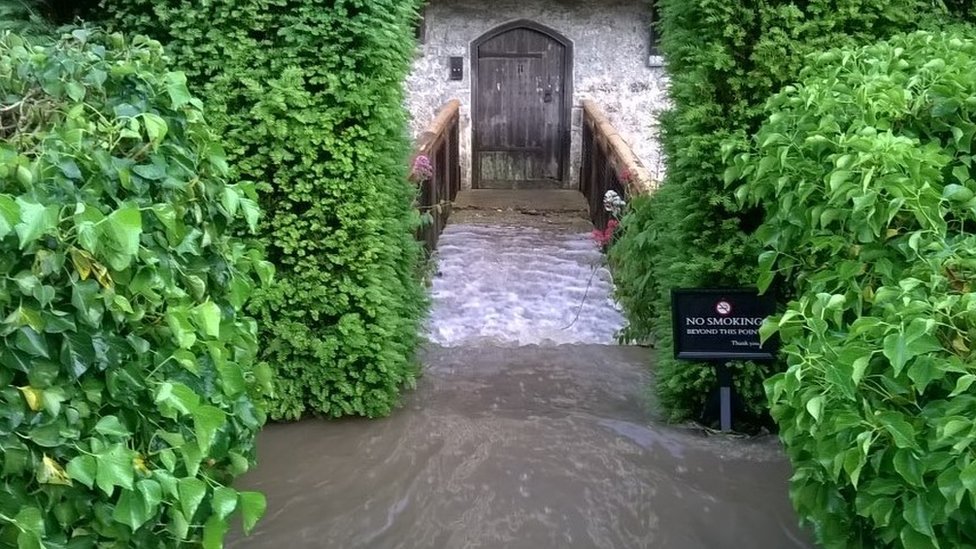 Two people were rescued from a car in Kent after it became submerged up to the windows in heavy flooding.
A man required medical help having suffered the effects of being in cold water in the car in Kemsing on Saturday night.
Heavy rain caused problems across the county with a brook bursting its banks and flooding 17 homes in Ightham.
An elderly couple were also rescued after their car became stuck in flood water in Halstead.
Highways England was eventually forced to close the M26 motorway and work through the night to clear floodwater.
The Met Office has issued a further yellow warning of rain for Sunday afternoon.
It said heavy showers in eastern parts could cause surface water flooding, especially in locations where the ground is very wet.
At its height, water levels rose to about 2.5m (7ft) in Ightham.
Roads were closed and flooded properties evacuated with residents offered temporary accommodation.
The fire service said it worked hard to clear the water during the night and it has now subsided.
The British Red Cross provided support and gas safety engineers were also in attendance.
'Torrent of water'
As the clean-up operation begins, the fire service and local council officials remain on the scene providing assistance to affected people.
Ightham Mote, a National Trust property between Sevenoaks and Tonbridge, suffered badly.
The courtyard, gardens and cottages were flooded with several ground-floor rooms affected, the National Trust said.
Collections have been removed, inspections are being made and remedial works put in place.
General Manager Bernadette Gillow said it was a "serious, swift and overwhelming torrent of water".
She added: "Whilst we took immediate action, nothing more could be done to prevent inevitable damage.
"We are hopeful there is no structural damage but contents and floors need to dry out and services renewed."
As a consequence, the house and gardens are temporarily closed.
Source:: BBC world news feed