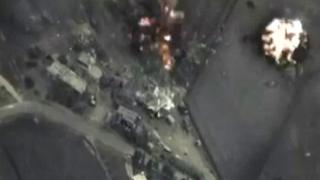 UK accuses Russia over Syria strikes
3 October 2015
From the section UK
Image copyright
Reuters
Image caption
Russia's defence ministry has issued footage said to show its air strikes in Syria
Russia has carried out indiscriminate bombing in Syria that has led to the deaths of civilians, Defence Secretary Michael Fallon has said.
He told the Sun intelligence suggested Moscow had mostly been targeting forces fighting President Bashar al-Assad rather than Islamic State militants.
Russia's involvement would not prevent the UK from making a case for RAF strikes against IS in Syria, he added.
The US has said Russia's strikes are "only strengthening" the IS position.
Mr Fallon said initial Ministry of Defence intelligence …read more
Source:: BBC UK