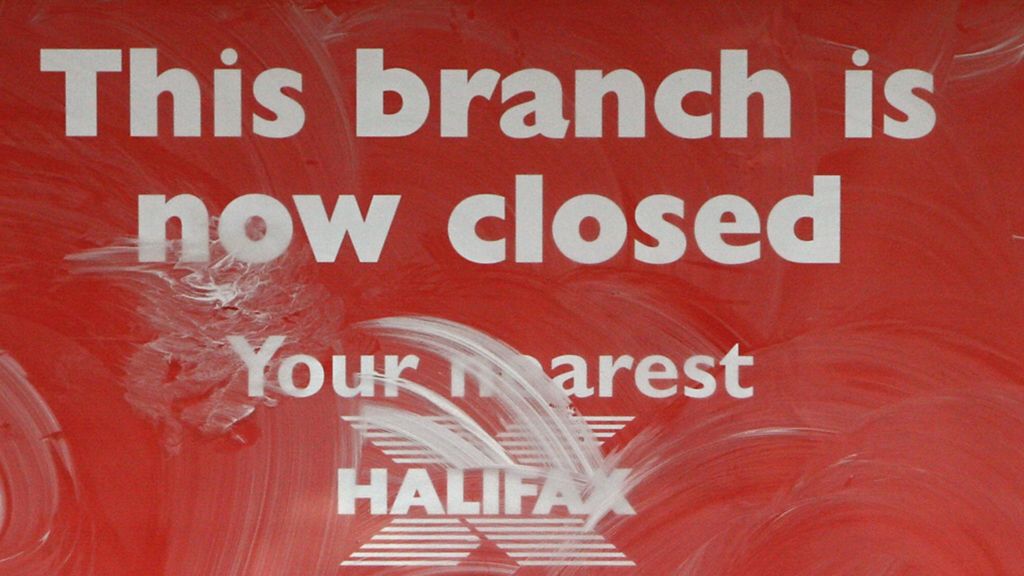 More than 600 bank branches have closed across the UK in the last year, with rural areas worst affected, according to figures obtained by the BBC.
Parts of Wales, Scotland and the South West of England lost the most banks per head of population.
Five of the top 10 areas losing banks are in Wales: Powys, Denbighshire, Gwynedd, Conwy, and Carmarthenshire.
The banks said that demand for branches was falling, as more people switch to banking online.
The data – obtained by BBC Breakfast – came from the big six High Street banks: Lloyds, Royal Bank of Scotland (RBS), HSBC, Santander, Barclays and the Co-operative.
The closures all took place between April 2015 and April 2016.
Online banking
Over the last year, RBS closed the most branches – 166 – followed by HSBC with 146 (see chart below).
In total, about 3,000 branches have shut over the last decade, according to the Campaign for Community Banking Services.
Aside from rural areas, many closures occurred in commuter towns, where customers are more likely to do branch banking near their place of work, or use telephone or online banking.
Many closures were ordered because two or more branches were located close together in a town or city – something the banks call "optimisation".
"We never take the decision to close branches lightly," a spokesperson for HSBC said.
"The way we bank is changing very quickly, and with an increase in the use of online and telephone banking over the past few years, use of branches has fallen significantly."
The figures do not include new openings.
However, Metro Bank is the only lender to open a significant number of branches. It has opened 41 in the last six years, with a further 59 expected by 2020.
Daily log-ins
Figures from RBS show that over-the-counter transactions have fallen 43% since 2010. At …read more
Source:: BBC UK