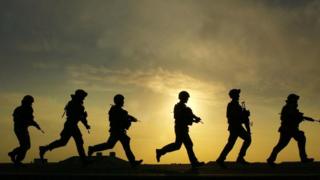 UK Iraq veterans 'may face prosecution'
2 January 2016
From the section UK
Image copyright
PA
UK soldiers who fought in the Iraq War may face prosecution for war crimes, according to the head of a unit investigating alleged abuses.
Mark Warwick said there were "lots of significant cases" and that discussions would be held over whether they met a war crimes threshold.
Lawyers are continuing to refer alleged abuse cases by soldiers to the Iraq Historic Allegations Team (Ihat).
The Ministry of Defence said it took such allegations "extremely seriously".
Two public inquiries have already looked at claims against UK troops in Iraq.
Mr Warwick, the former police detective in charge of Ihat, told the Independent the allegations being investigated included ones of murder.
He added: "Over the next 12 to 18 months, we will review all the caseload to better understand the picture and then I think we can say whether 2019 seems realistic."
The inquiry has considered at least 1,515 possible victims, of whom 280 are alleged …read more
Source:: BBC UK