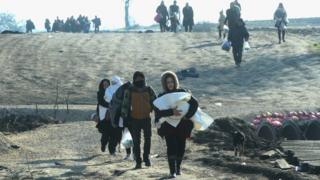 Migrant crisis: UK government response branded 'inadequate'
4 January 2016
From the section UK
Image copyright
EPA
David Cameron's response to the refugee crisis is "clearly inadequate", leading aid and refugee agencies claim.
In a letter to the PM, the group of 27 charities – including Oxfam and Amnesty International – say the UK should take a "proportionate" share of refugees.
They praise the commitment to resettle 20,000 Syrian refugees over five years but say more needs to be done.
A government spokesman said the UK has a "long and proud history of offering sanctuary" to those in genuine need.
'Too slow, too low'
The letter, coordinated by the British Refugee Council, asks Mr Cameron to show a "new resolve" to deal with the crisis, which saw nearly 4,000 people drown last year and hundreds of thousands more face danger and hardship while fleeing violence.
The group, which also includes the International Rescue Committee, Liberty and ActionAid, wrote: "Last year's announcement that the UK will resettle 20,000 Syrian refugees over five years …read more
Source:: BBC UK