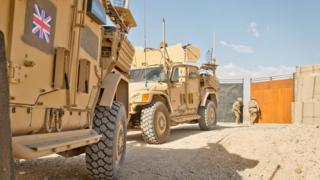 Afghanistan Taliban: British military deployed to Helmand
22 December 2015
From the section UK
Image copyright
MOD
Image caption
There are about 450 UK troops acting in mentoring and support roles in Afghanistan
British military personnel have been deployed to Afghanistan's Helmand province as reports suggest the Taliban is close to overrunning Sangin town.
The Ministry of Defence said a small number of personnel had been sent to Camp Shorabak in Helmand in an "advisory role".
They will not be in combat and are part of a larger Nato team, the MoD said.
UK combat operations in Afghanistan ended last year, but around 450 troops remain in mentoring and support roles.
In …read more
Source:: BBC UK