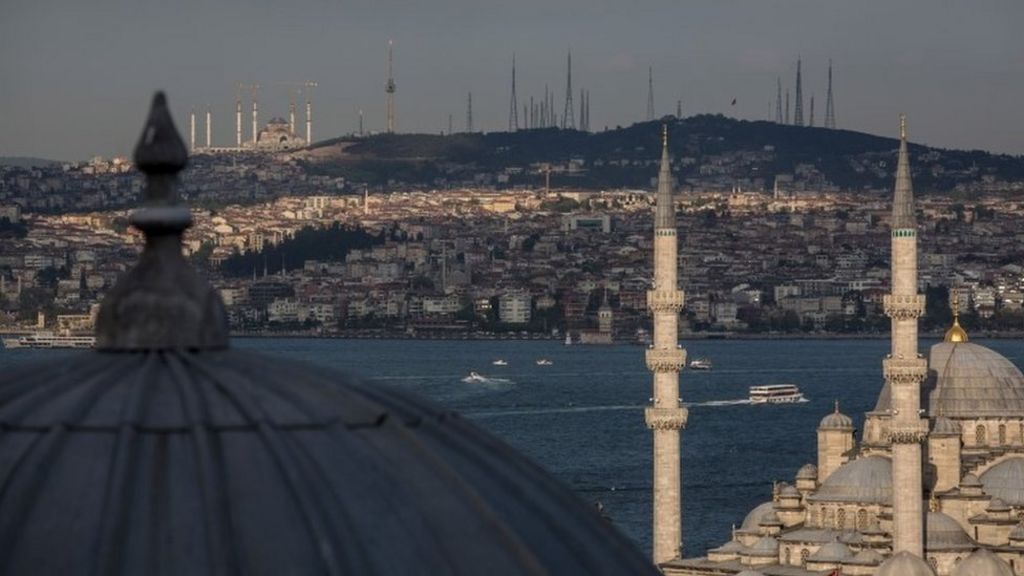 The UK would be powerless to prevent Turkey joining the EU despite the "security risks" its membership could bring, a defence minister has said.
Penny Mordaunt said the migrant crisis would hasten talks over Turkey's EU bid and see more criminals entering the UK.
Next month's EU referendum was the "only chance" the UK would have to have its say on the issue, she told the BBC.
David Cameron said the UK had a veto and it would be "literally decades" before Turkey was ready to join.
With just over four weeks to go to the 23 June referendum, NHS boss Simon Stevens said leaving the EU would be damaging for the health service, while the prime minister has said food prices would rise sharply in the event of a vote to leave.
Talks on Turkey joining the EU, which formally began in 1997, have stalled in recent years amid concerns about the pace of economic reform in Turkey, the security situation in the country as well as historical tensions between Turkey and Cyprus.
But Leave campaigners have warned an agreement earlier this year between the EU and Turkey on tackling the migrant flow across the Mediterranean has injected new impetus into its membership bid and it has sought to make the issue a major plank of its argument.
'Dishonesty'
The Leave campaign has warned that if Turkey and six other countries – Serbia, Albania, Bosnia-Herzegovina, Montenegro, Kosovo and Macedonia – who are aspiring EU members were allowed to join, free movement rules within the EU could see many of their citizens seek work in the UK and could lead to a five million increase in the UK's population by 2030.
A million Turks could potentially come to the UK within eight years of joining, they have claimed, a scale of migration that would run the …read more
Source:: BBC UK