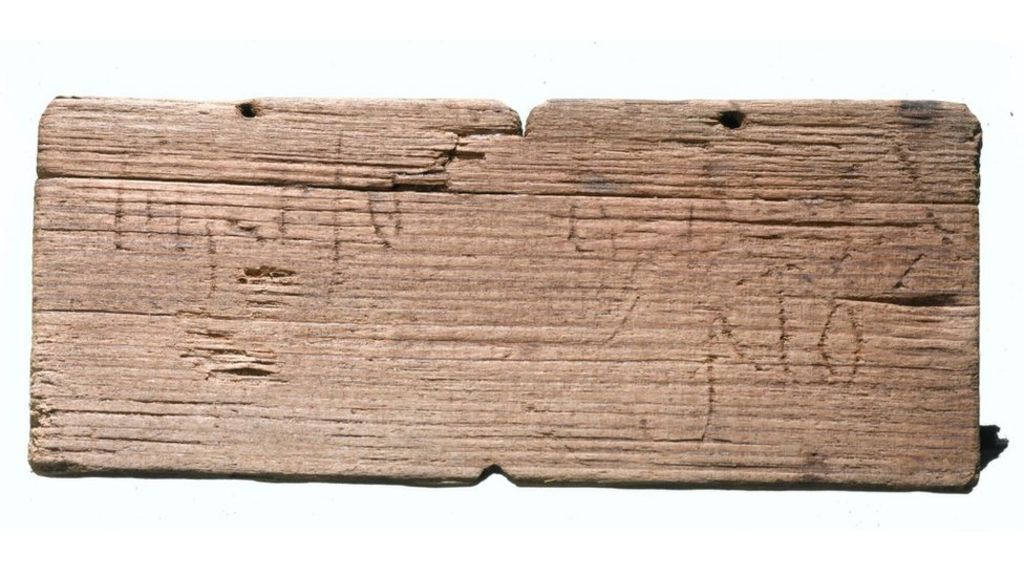 Roman tablets discovered during an excavation in London include the oldest hand-written document ever found in Britain, archaeologists have revealed.
The Museum of London Archaeology (MOLA) said it had deciphered a document, from 8 January AD 57, found at the dig at Bloomberg's new headquarters.
The first ever reference to London, financial documents and evidence of schooling have also been translated.
Over 700 artefacts from the dig will go on display when the building opens.
According to MOLA, the tablets reveal the first years of the capital "in the words of the people who lived, worked, traded with and administered the new city".
Director Sophie Jackson said the findings had "far exceeded all expectations" and would allow archaeologists "to get closer to the first Roman Britons".
Earliest reference to London
Researchers believe this tablet, is the earliest ever reference to London predating Tacitus' mention of London in his Annals which were produced about 50 years later.
Dated AD 65/70-80, it reads "Londinio Mogontio" which translates to "'In London, to Mogontius".
Earliest readable tablet
This tablet was found in a layer dated by MOLA to AD 43-53 so is thought to have been from the Romans' first decade of rule.
In translation it reads "…because they are boasting through the whole market that you have lent them money. Therefore I ask you in your own interest not to appear shabby… you will not thus favour your own affairs…."
Evidence of schooling
The letters on this tablet are the last two lines of the alphabet: "ABCDIIFGHIKLMNOPQRST"
Archaeologists believe it is writing practice, or a demonstration of literacy or letterforms, and possibly the first evidence of Roman schooling found in Britain.
Earliest dated document from Roman Britain
This tablet reads: " In the consulship of Nero Claudius Caesar Augustus Germanicus for the second time and of Lucius Calpurnius Piso, on the 6th day before the Ides of January …read more
Source:: BBC UK