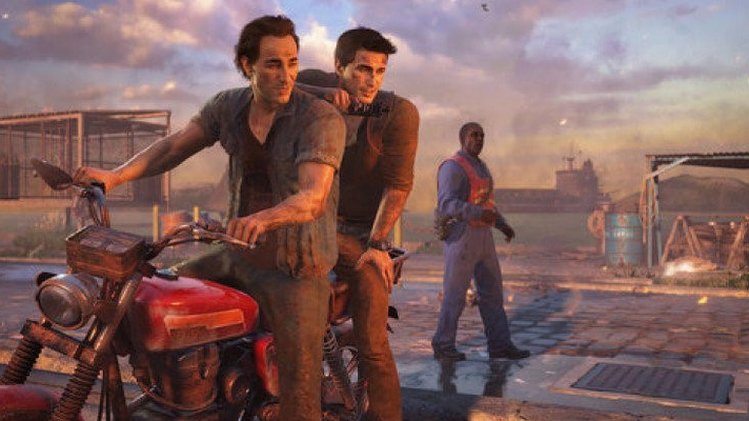 Media playback is unsupported on your device
Uncharted 4 has won the best game at this year's Bafta Games Awards.
Developers from its studio, Naughty Dog, said it was "unexpected". The action adventure title had earlier missed out on seven other categories it had been nominated for.
Chaotic restaurant kitchen game Overcooked took the prize for best British game and family title.
The surreal puzzle-platformer Inside had four wins, the most of any game at the London ceremony.
It took original property, artistic achievement, game design and narrative.
Brenda Romero has received this year's special award.
The co-owner of Romero Games has helped develop dozens of titles including the Wizardry series; Dungeons & Dragons: Heroes; and Playboy: The Mansion.
She said the British Academy of Film and Television Arts' event held importance.
"I remember when Bafta started recognising video games," she said.
"To me that was the single most important move in our entire industry for recognising us as an art form [at a time when] people were saying games were bad or games were wastes of time."
Media playback is unsupported on your device
She was joined at the event by her husband John Romero, who helped design Doom and the original Wolfenstein 3D.
Cancer-inspired game
The developers of That Dragon, Cancer were emotional when they made their speech after winning the prize for game innovation.
The title was inspired by the death of two of the team's son, who was diagnosed with cancer when just one year old. He died four years later.
"Our life with Joel was hard but it was really beautiful," said his mother Amy Green, who wrote the game's story.
"So, when we thought about creating a game that would become the only legacy he would have – the legacy we chose and he could not – we created a game that was hard to play.
"But we believe it was beautiful and we thank you for believing the same thing."
Blizzard Entertainment's Overwatch won best multiplayer. The team-based first-person shooter was designed for e-sports and is notable for featuring LGBT (lesbian, gay, bisexual, and transgender) characters.
The AMD e-sports audience award, however, went to Clash Royale, a real-time card-based title featuring characters from the blockbuster mobile game Clash of Clans.
Best debut game went to Firewatch, an unusual mystery adventure in which the player communicates with another person via a handheld radio. It also scored Cissy Jones an award for her performance as the voice heard, Delilah.
Audio achievement went to The Last …read more
Source:: BBC Entertainment