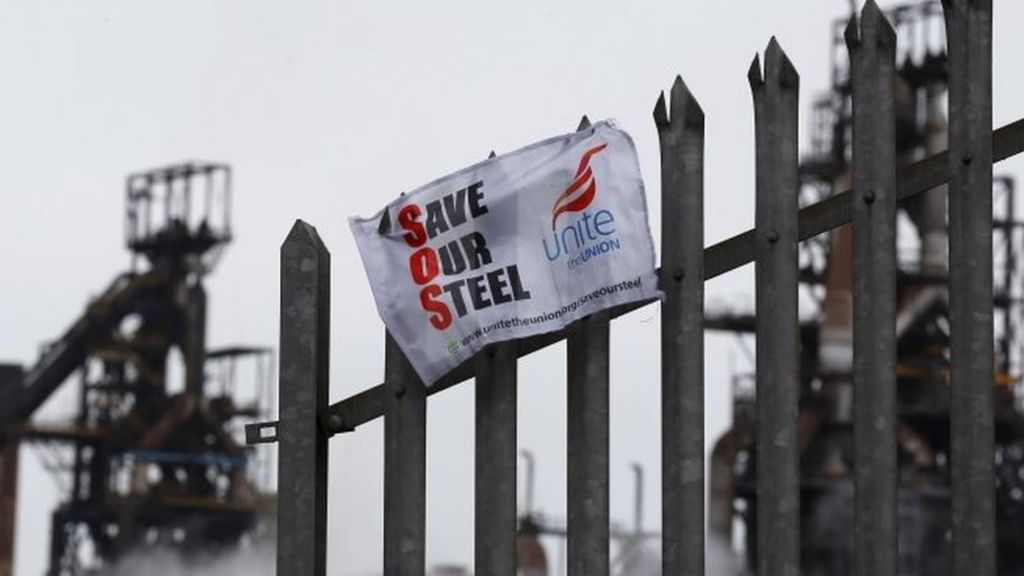 Union leaders will meet to discuss the steel industry crisis later in an effort to save thousands of jobs.
Shop stewards from steelworks across the country will hold emergency talks in London to help prevent Tata Steel's Port Talbot plant from closing.
The government has said it would offer financial support to help "clinch a buyer" for the business.
Tycoon Sanjeev Gupta is understood to have had initial talks over a potential purchase of the south Wales plant.
There are also reports that an investment firm is interested in a buy-out of Tata's Scunthorpe operation.
The Daily Telegraph has reported that Marc and Nathaniel Meyohas, the brothers behind the Greybull investment firm, are ready to pour £400m into the struggling Lincolnshire plant, potentially saving about 9,000 jobs.
Tata Steel announced last week it was selling its loss-making UK businesses and would close its plant at Port Talbot unless a buyer is found.
The company directly employs 15,000 workers in the UK and supports thousands of others, across plants in Port Talbot, Rotherham, Corby and Shotton.
UK steel crisis
What's going wrong with Britain's steel industry?
Tata Steel UK: What are the options?
Is China to blame for steel woes?
Unite assistant general secretary Tony Burke said if the industry was "to be given a fighting chance then the government and Tata need to come clean on their intentions and prior discussions, because so far all we've had is more questions than answers.
"The apparent lack of urgency from Sajid Javid and absence of a clear plan from the government is disturbing for the tens of thousands whose livelihoods hang in the balance and deeply troubling for British Steel's 140,000 pensioners."
Roy Rickhuss, leader of the Community union, added: "By now, no-one underestimates the scale of the challenge we face. We have an entire industry to save and not a lot of time to save it. We must also ensure that we hold Tata to a commitment to be a responsible seller and honour its moral and social duties to UK steel communities."
Business minister Anna Soubry is due to visit Rotherham steelworks on Monday.
Mr Gupta's commodities firm Liberty House has already saved several UK steelworks but BBC political correspondent Carole Walker said he wanted to discuss possible government help on energy costs and to replace Port Talbot's traditional blast furnaces with modern electric arc furnaces.
On Sunday's Andrew Marr show, Business Secretary Sajid Javid said he would rule nothing out, …read more
Source:: BBC UK