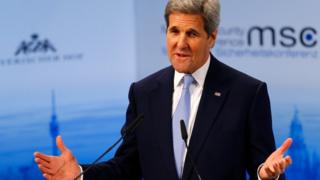 EU referendum: US wants 'strong UK in strong EU'
13 February 2016
From the section EU Referendum
Image copyright
AP
Image caption
John Kerry spoke about the EU while at a security conference in Munich
The US has a "profound interest in a strong UK staying in a very strong EU", says US Secretary of State John Kerry.
Speaking in Germany, he said many Europeans felt "overwhelmed" by recent challenges but the US was confident Europe would "emerge stronger".
His comments come ahead of a crucial Brussels summit, where Prime Minister David Cameron is hoping to secure a deal on a reformed EU.
Campaigners for EU exit …read more
Source:: BBC UK