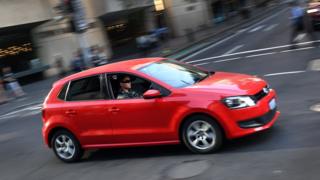 VW suspends thousands of UK car sales
By John Moylan
Industry correspondent, BBC News
1 October 2015
From the section Business
Image copyright
Getty Images
Volkswagen is suspending the sale of 4,000 vehicles in the UK in the wake of the emissions scandal.
The company said the vehicles may be equipped with the device that cheated emissions tests in the United States.
The move will involve vehicles across the VW group including the VW, Audi, Skoda and SEAT brands.
VW said it was a temporary measure. It intended to return the vehicles for sale once a fix is identified for the cars.
The cars involved represent 3% of its stock in the UK and VW will continue to sell new vehicles, with the latest, cleanest engine technology.
From last month all new diesel cars sold in Europe must …read more
Source:: BBC UK