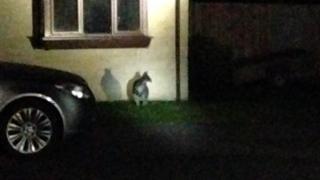 Escaped wallaby gives police the hop in Dursley
27 September 2015
From the section Gloucestershire
Image copyright
Gloucestershire Police
Image caption
Officers tweeted they had cornered a "kangaroo" but it later escaped
Police pursuit of an escaped wallaby a sparked comic reaction after officers said they had cornered a kangaroo.
The Australian marsupial, which was spotted in Dursley, Gloucestershire, then escaped, police confirmed.
One Twitter user asked "aren't kangaroos massive?". Another, referring to fictional kangaroo Skippy, suggested it had escaped to help cure England's rugby woes.
Officers themselves then said it was "not the usual bouncer" they deal with.
Gloucestershire Police had tweeted: "Kangaroo update – we have it cornered 'outback' of a house …read more
Source:: BBC world news feed